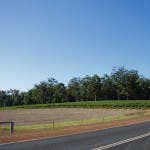 Heading south from the well-known Margaret River area (and you should – it's a lovely drive), you'll come across Pemberton tucked into the towering trees of the neighbouring forests. Things grow well here, so why not grape vines?
History
The soil is so good, in fact, local vignerons use a lot of tough love on the vines to keep them producing. Keeping them pruned back and dry is the trick. Chardonnay is the top drop in this climate, but those cool nights and warm days are beneficial to Cabernet Sauvignon and Merlot. Keep an eye on reds from this region.
Visting
Visitors should be ready to get outdoors and enjoy the landscape and coasts. It's not every day you can climb an 80 metre tree, after all.
View Larger Map
..