Cabernet Sauvignon is unmistakably one of the world's most recognised red wine varieties. It is produced in most major wine growing regions across the world, from the banks of the Gironde in France to Lebanon's Beqaa Valley, to the valleys of California where it overtook the Zinfandel variety on it's rise to glory. Since the late 1800s Australia has definitely proven itself in the world of the humble 'Cab Sauv'. Speaking locally, I turn the page on my desk copy of Halliday's 'Wine Atlas of Australia & New Zealand', to read: 'Whichever yardstick one adopts, Coonawarra produces most of Australia's great Cabernet Sauvignon.'
Proud Parents
Cabernet Sauvignon was born in the 17th century in an accidental parenting mix-up and is the spawn of a Cabernet Franc and Sauvignon Blanc entanglement which occurred in south western France. (Which reminds of a joke where a Chihuahua and a Pug walked out a bar one day..) Immediately its popularity amongst winemakers increased as its ease of cultivation was discovered. It is hardy, thick skinned grape that grows on a vigorous vine. Although naturally low yielding, the grapes have strong resistance to diseases such as powdery mildew. It can also grow in a wide variety of soil conditions, which is reflected in it's most celebrated growing locations across the globe. Perhaps the most important point however, is that the grape variety is extremely adaptable and makes a strong candidate in various blends of red wines. This is evident in the style of wines found in Bordeaux, France, where under the legal requirements of the region, a Bordeaux style red must contain either
Cabernet Sauvignon
, Merlot, Cabernet Franc, Petit Verdot or Malbec. Cab Sauv, Merlot and Cab Franc is a typical blend in this style. In Australia, Cabernet is blended with Tempranillo and Sangiovese, but often Shiraz and it was this romantic synthesis that bore the beginnings of Max Schubert's 'Grange'. Although discouraged at the time by Penfolds Estate, Max Schubert, after travelling to France knew there was a place in the Aussie market for a red wine with legs (cue Shiraz) that could have good ageing potential (cue Cabernet).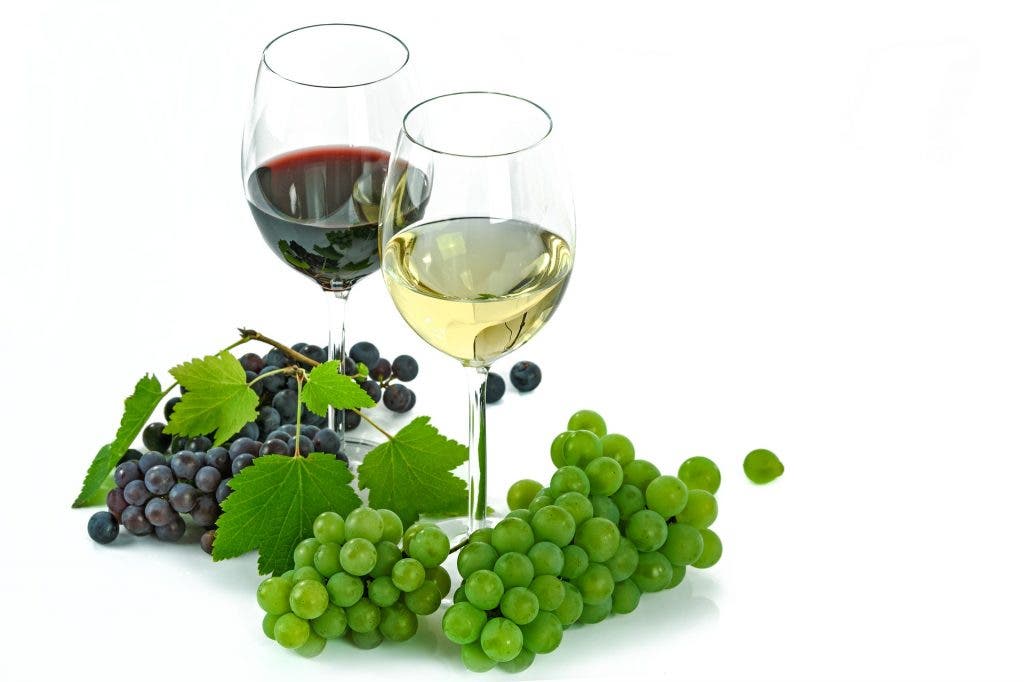 Cheat Sheet
Cabernet Sauvignon was made from Cabernet Franc and Sauvignon Blanc.
Capsicum, through pyrazines is a naturally occurring flavour descriptor.
Cabernet features strongly in Bordeaux wines from France.
Cabernet Characteristics
In terms of its profile as a wine, Cabernet Sauvignon is a full bodied red wine with healthy levels of tannins and a medium level of acidity. The late ripening character of the fruit brings in the alcohol level on the higher end of the spectrum, normally around 14%, sometimes 15% in big years. This tannin level which is naturally produced by the grape skins is imparted during maceration. Historically speaking, Bordeaux winemakers would settle this period at three weeks. They then used this time for a 'hunting holiday' as a form of celebrating the end of the vintage. The resulting wines are dry as the proverbial.. anyway, they're dry and in order to enjoy them they require a generous amount of time to age. In order to soften tannins, winemakers can vary the length of the length of time spent on skins, as well as using oak. In fact, Cabernet Sauvignon loves oak and the variables in this process can really shape the wines: new American oak will impart much more flavour than used French oak. One of the distinguishing characteristics of Cabernet Sauvignon is the herbaceous 'capsicum' note upon tasting. This comes from pyrazines, organic compounds that are naturally found in the grapes. These compounds are gradually broken down by the sun as the grapes are on their way to ripening. In cooler climates, it can be difficult at picking time to produce grapes that have levels of pyrazines that remain completely undetected, that is to say - 'helloooo capsicum!'
South Australia's Own
Bring on the Coonawarra. Whilst Margaret River is often jointly on the tongue of many Cab Connoisseurs, the Coonawarra region long mastered the style before WA had a crack at the title. It all began with Scotsman John Riddoch who planted vines in 1893. Where the Coonawarra wins, is its rich terra-rossa soil combined with the warm-hot climate; which makes for perfect ripening conditions. This terra-rossa strip of loose red earth over limestone is physically a 12 x 2km strip. When you drive south of Adelaide, you can really experience the feel of this. Historically important brands from the region include family owned Redman, Wynns and Mildara, who with their '62 vintage won the prestigious Jimmy Watson trophy the following year. Due again to the adaptive nature of Cabernet truly being able to reflect its 'terroir', Coonawarra Cabs offer some delicious tasting notes, often with mint, chocolate and cigar box flavours, finishing in softer tannins thanks to the warm climate of the region. If you're not already, get yourself acquainted with the mighty Cabernet Sauvignon and see for yourself why it's one of the worlds great varieties and more importantly, enjoy what South Australia's own Coonawarra has to offer.
..