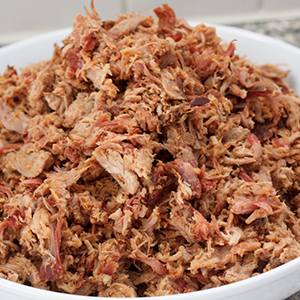 You know the story, we both work, one daughter, two dogs, two cats, friends, family, life. In our house there isn't a lot of time to cook for sustenance let alone for the joy of it. Quick, simple and plenty of tuppawarable leftovers for the freezer has become the "specialite de la maison". This is one of our staples because you can set it quickly, forget it, then use it as a base for endless dishes. Most of all it is easily varied based on personal taste, what's in the cupboard or on a whim. Google it if my recipe doesn't take your fancy and you will find hundreds of recipes simpler and more complex. We use a slow cooker, a mate down the road uses a crock pot left on her wood heater overnight and another uses a cast Iron pot in a very low oven. You could even do it on low on the stove-top if you are around the house. The quantities are exactly, kind'a, around about unchangeable for our tastes so play with the ingredients and find your own version of Pibilian heaven.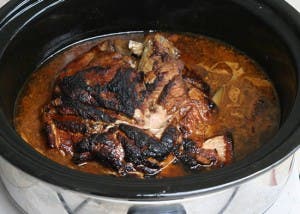 Typically, however you choose to serve this up, a light to medium wine like the Chalk Hill Sangiovese will work a treat.
Stuff
1.5 Kg Boneless Pork Shoulder – Saying that use whatever size fits in your pot and adjust the other ingredients accordingly. I have used on the bone, off the bone, pieces and other whole cuts. It all works but this is a cheap cut and off the bone is easier. 500g Tomatoes - Canned whole, diced or fresh & skinned if you have the time. If you don't have the time to skin fresh ones just chuck 'em in and pick the skins out later or just use good ol' leggos tomato paste. 4 tbls
Annatto Seeds
– You can find these in gourmet shops, Indian stores and some Asian grocers. You can use the powdered form or substitute paprika if that all sounds too hard. Couple of table spoons will do it if powdered. 1 tbls whole black pepper – or not, it's up to you. ½ tps cloves – or not. 1 tps Ground Cumin – Or more, or less. 1 tps Salt – We don't use a lot of salt in our house so I usually forget this. 8 whole
allspice
– some people add or substitute a cinnamon stick. Some leave both out. ½ cup of orange juice - Apple will do and I have used Breakky Juice. ½ cup of apple cider vinegar - this is the only one I don't change, ever, ever, ever! Except when I run out and have to use white and/or malt. 2 stubbies of
Adelaide Hills Cider
– One for the pot and one for you. Or beer, or not, or more. 2 Cups of Stock – Chicken, veg, beef... or not. Just make sure the combination of liquid is about half way up the joint. 3 lemons – Juiced, or... 2 Onions – Sliced and used as a bed. 4 to 50 chillies depending on your addiction to pain and endorphins.
Ok ready? The Method
Make a bed of onions, add the liquids then rub the dry stuff on the pork and drop it in. Put the lid on then set the slower cooker on low for 6 to 10 hours. Then do the dishes whilst tripping over the cats who are hanging around for treats. Feed the good dog, yell at the other for digging holes in the garden and wrestle your little one into the bath after she has finished filling the dogs garden excavations with water and sitting in them. Put on a load of washing then forget to hang it out. Lastly mop the floor because you forgot to close the door and the miner hound followed you in with muddy paws. Now change the wet sheets on your bed because you forgot your kid was in the bath (what a terrible parent), she got bored, couldn't find a towel and jumped into bed because she was cold. It can't just be us this house... can it? When cooked (which is a strict measure of when you can be bothered) drain and reduce the liquid at a simmer until thickened. Add this and that to the liquid to taste, one mate adds honey or molasses to sweeten it up a bit. Take a couple of forks and pull the meat apart until shredded to exactly whatever size you want. Troublingly, this shredding action will become somewhat cathartic after the morning you've had. Reintroduce the reduced sauce, sit on the couch for the first time just as your partner comes home and asks what you have been doing all day.
Uses
I portion up whatever is left after all the volunteer tasters have had their fill and freeze it once cooled. When you need it, pull it out of the freezer and zap it until hot then use it however you like. On rice with a diced cucumber, tomato, corn and spinach side salad. Use for taco's, fajitas, Quesadilla, pasta and homemade pizza etc. Throw it in a bun or a wrap with loads of salad greens, coleslaw and avocado. Kids love it and it goes a long way for impromptu/forgotten lunch visitors. Wrap it in lettuce cups as a kind'a Mexican San Choy Bau Wrap in cold roll skins with coriander and a mango slice. On it's own with a salad is our go to for a quickie. I've even heard of those Paleo types having it for brekky with a poached egg on top. Have a go, have fun and make lots.
..