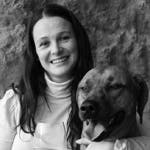 Dandelion, Sister's Run, Heirloom Vineyards, Cien y Pico
Elena originally hails from Lyaskovets, Bulgaria, a small town famous for its wine. She is a qualified winemaker, BSc (Oenology) Adelaide and has made wine for various Australian Wineries as well as being a consultant winemaker to a number of leading wine companies in Spain, Italy and Bulgaria.
Born to a MIG Fighter Pilot and Helicopter Mechanic (both of whom happened to be involved in the wine industry in Lyaskovets), Elena's interest in winemaking stemmed from time spent translating for Australian Winemakers Stephen Bennet, David Norman, Dylan Rhymer, Kym Milne MW and others, who worked at her mother's winery between '93 and '98.
With Stephen Bennet's support and her family's encouragement, Elena made the move to Australia and started studying winemaking at Adelaide University in 1998, graduating in 2001 with a Bachelor of Science (Oenology). (Elena's mum was keen on this noting that all winemakers did was meet in the morning in their lab coats, taste some wines, drink some coffee, have a chat, then go out to luncheon.)
Locally Elena worked vintages at Patritti Wines and Hardy's Tintara and was the winemaker at Geoff Merrill Wines, La Curio, Maxwell Wines and others in McLaren Vale as well as the various wineries of Farnese throughout Italy and Fratelli Urciuolo in Campagna.
Elena became an Australian citizen in 2006 and married typist Zar Brooks in 2007 after meeting at the Royal Adelaide Wine Show judging in 2000. As a 'trophy wife' Elena helped make a Jimmy Watson Trophy winner in 2005, the winner of The Great Australian Shiraz Challenge the same year, won the trophy at Decanter World Wine Awards for best 'Rhone style Red' in 2007 and made the Best red wine for the Gambero Rosso Guide in 2008. Elena also won trophies for Dandelion Vineyards (Elena's own wine company) in the wineries' first year at the 2009 and 2010 at The Royal Brisbane wine show for best current vintage white and for the best small producer at the 2009 Barossa Wine Show and numerous other awards.
Elena sources grapes to make all her wine from South Australia, specifically the Adelaide Hills, Barossa, Fleurieu Peninsula and McLaren Vale and also makes the wine Carl Lindner's Sister's Run Wine Company, her father in law's Heirloom Vineyards and for her Spanish Wine Company, Cien y Pico in Manchuela.
Elena always wants her wines to remember exactly when and where they came from and believes 'the truth is in the vineyard and the proof is in the bottle.'
..