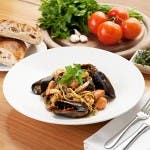 Don't skimp on the seafood here - quality is key. Pile that pot high and indulge...
Ingredients
16 green prawns 16 local mussels 16 fish pieces 1 tsp fresh chilli, sliced 2 garlic cloves, chopped 1 bunch basil, torn 2 handfuls of rocket 4 roma tomatoes, cut into ¼, seeds removed, cut into strips 4 knobs of butter 2 lemons Noilly Prat to taste 2-3 tbs tomato pesto 500g good quality dry pasta, cooked 200g dry squid ink linguini, cooked (optional)
Semi-dried Tomato Pesto:
100g bucket semi dried tomato, reserve drained oil ½ bunch basil leaves 20ml balsamic vinegar salt and pepper 2 cloves garlic 10g of toasted pine nuts
Method
Add all ingredients in food processor and blend adding a little oil to loosen mixture. Heat a large fry pan or wok, add olive oil and ½ the butter. Add prawns, chilli, garlic and pesto sauté for 1 minute, deglaze with the noilly prat. Add mussels and fish and cook for another minute and add the rest of the ingredients, season and serve with a cheek of lemon.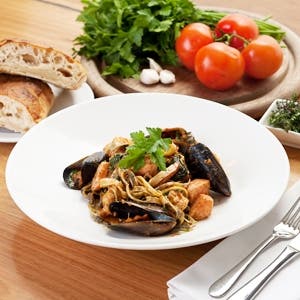 Recipe provided by:
..