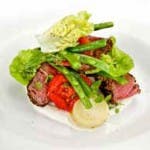 A salad that for blokes that think salads are for sheilas. Pair it with your more subtle but robust reds.
Ingredients
2 tbs black peppercorns Olive oil 4 x 140g eye fillets steaks 360g kipfler potatoes Sea salt 3 tbs garlic cloves 2 bay leaves 2 sprigs rosemary 6 thyme sprigs 250ml vinaigrette 200g green beans, topped and tailed 1 baby gem lettuce, outer leaves removed 4 tbs baby watercress 100g crème fraiche 1 tbs horseradish relish 2 tsp Dijon mustard
Slow Cooked Tomatoes
20ml extra virgin olive oil 2 cloves garlic, finely chopped 1 tsp fresh thyme leaves 1 tsp fresh oregano leaves 4 small gourmet tomatoes Pinch sugar Sea salt and freshly milled pepper
Method
Grind peppercorns in a pestle and mortar until finely and evenly crushed. Tip into a sieve and shake to remove finely ground pepper leaving only the coarsely ground mignonette. Brush steaks with oil and press on crushed peppercorns. Cover potatoes with cold water and add sufficient sea salt to flavour the water. Add crushed garlic cloves, bay leaves, rosemary and thyme. Bring to a simmer and cook for 30 minutes or until just tender. Remove from heat and allow to cool in the liquor then remove skin from potatoes, cut into thick 'coins' and marinate in 200ml of the vinaigrette. Blanch beans in well salted boiling water till just tender. Refresh in iced water then split beans in two. Combine crème fraiche, horseradish and mustard. Season lightly. Preheat chargrill to hot. Season steaks with salt and cook for 3 minutes per side. Remove from heat and allow to rest for 5 minutes. Carve into ½ cm thick slices. To present, spread horseradish crème on bottom of plate in a neat 10cm circle. Arrange kipflers around the outside. Toss sliced steak with tomato quarters, green beans, gem lettuce leaves, baby watercress and dress lightly with vinaigrette. Arrange on top of horseradish cream
Slow Cooked Tomatoes
Preheat oven to 140C. Line a tray with baking paper. Combine garlic, thyme, oregano. Core tomatoes and halve through the 'equator' and place on the tray cut side up. Spoon oil mixture over tomatoes then sprinkle with sugar, salt and pepper. Bake for 2 hours.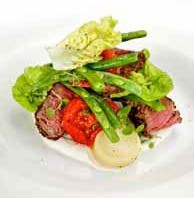 Recipe provided by:
..