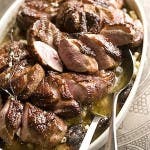 Rich, tender, quack-quack. Good duck is just so good, eh? This glaze is just the thing to make it great.
Ingredients
2 tablespoons honey 1 teaspoon sherry 3 tablespoons water 4 cardamom pods, seeds crushed (½ teaspoon) ½ teaspoon black peppercorns, crushed 1 teaspoon orange blossom water 2 ducks (size 18) 2 onions, quartered 2 lemons, quartered 1 cinnamon stick a few sprigs of rosemary or thyme
Method
1. Warm the honey gently with the sherry and water so that it dissolves. 2. Then stir in the cardamom seeds and crushed pepper. As it cools down add the orange blossom water. 3. Wash and wipe the ducks. Remove the wings and necks and stuff each cavity with an onion, lemon, bay leaf, half a cinnamon stick and a few sprigs of rosemary or thyme. Use small skewers or toothpicks to close the cavity. Pierce through each duck with the rotisserie skewer and attach securely using prongs and extra string. The ducks must be very securely attached to the skewer. 4. Pre-heat the oven to 200°C. 5. After 50 minutes turn the temperature back up to 220°C and brush the ducks liberally and evenly with the glaze while still turning. 6. Close the oven and cook a further 3-5 minutes until the birds are a glossy mahogany colour, but make sure you don't allow the glaze to burn. 7. Remove from the oven and allow to rest for 15 minutes before carving.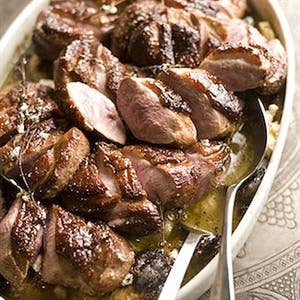 Recipe provided by:
..