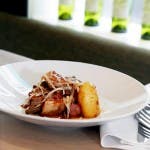 "Lambascioni" is pickled onions, and with melt-in-your-mouth lamb it's just magic. What a treat for a Sunday roast!
Ingredients
1 lamb neck 1 x 3g lamb shoulder, rolled 10 x lamb ribs (ask your butcher to chop meat for you) 200ml white wine 100ml extra virgin olive oil 10 cloves of garlic 5 bay leaves pinch of chilli powder pinch of dried oregano 2L of chicken stock 500g peeled tomatoes 200g anchovies salt and pepper to taste *500g lambascioni (pickled Italian onions) *150g truffled pecorino Note: *Both available from quality continental stores.
Method
Add all ingredients excluding lambascioni and truffled pecorino into a tray with lamb. Cover with foil and braise in oven on 180°C for 1 hr and 45 minutes. Remove foil and bake for a further 20 mins. Remove from oven and mix in lambascioni and grate truffled pecorino on top. Serve immediately.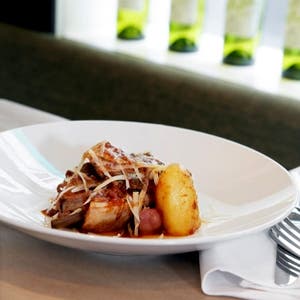 Recipe provided by:
..