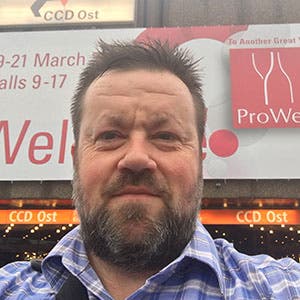 We packed Matt off to Prowein and Champagne again this year to hunt down some quality reds from Europe and perhaps another Champagne producer or 2 to add to the 3 awesome producers we already import...
Click here
to see the Champagne houses we currently import and you can check out some articles on our previous expeditions via
this search query
. Prowein was especially nuts this year, with 6,500 exhibitors from over 60 countries showing their wares (that's around 4,000 more producers than there are in Australia) and about 60,000 trade visitors tasting and buying.
The brief to Matt was simple: elbow your way through the scrum and find us the good stuff... reds good enough for Aussies to drink and that are cracking value for money. On previous trips Matt had just been hunting for Champagne but a fortuitous introduction saw us bring in one red last year, the amazing Susumaniello, which sold out in no time. This year we have a pile of samples to look at, with reds from Italy, Spain and Portugal lined up on the tasting bench and waiting for the tasting panel tongues to wag or wilt. No doubt we'll be offering more Euro reds in the next few months. After Prowein, Matt was off to Champagne with meetings in Cramant, Ay, Bouzy, Mareuil-Sur-Ay, Pierry, Ville-Dommange and Epernay... and again samples are on the way from some exceptional growers with Grand Cru vineyards. We can't wait to taste them all and pick the eyes out of this year's selections.
..