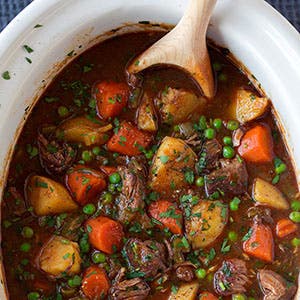 I love making this stew when in the depths of winter we have the slow combustion fire going. With the cosiness of the fire and the smell of the stew slowly cooking on the combustion fire-top, the world seems a happier place when we hunker down by the fireside in refuge from the cold and rain, comfort food and wine at the ready.
Ingredients
4 beef cheeks (if you can't find beef cheeks at your butcher, ask him to substitute them with gravy beef – about 750gms) 2 kangaroo fillets (about 500gms) Olive oil 4 cloves of garlic 1 large brown onion 3 golden shallots 4 sticks of celery Orange zest (from 1 orange) 6 sprigs of fresh thyme 2 bay leaves 400ml of red wine (shiraz, grenache, tempranillo or similar) 1 cup of homemade beef or chicken stock Seasoning to taste
Method
Trim the beef cheeks (not too severely) and cut the beef cheeks and kangaroo meat into large pieces Marinate the meat in the
red wine
with a couple of smashed and bruised garlic cloves, the thyme, bay leaves, orange zest and seasoning – for at least 2 hours, 'though preferably overnight After marinating the meat, drain it retaining the marinade, and pat the meat dry with paper towels Heat some olive oil in the base of a large heavy based casserole (you will need one with a tight fitting lid) then place the pieces of meat around the base, so that they fit snugly around the base, and brown the meat for 5 – 10 minutes over medium – high heat. Remove the meat and pour off juices into the marinade set aside previously. Add more olive oil and sweat the chopped remaining garlic cloves, onion and golden shallots for about 5 minutes over a medium heat before adding the chopped celery and cooking for another 5 minutes or so. Once these vegetables have cooked for 10 minutes or so, add the meat, red wine and stock and bring the mix to the boil, following which take the heat down so that the stew is simmering. Place the lid onto the casserole and continue to cook over a slow heat or in a low set temperature in your oven for 3 hours. If you have a slow combustion stove or fire with a cook-top available, this is when you transfer the casserole to the fire-top. Towards the end of the cooking time, uncover the stew to allow the sauce to reduce. The gamey flavour of the kangaroo really augments this dish, without overpowering it. Serve it with a simple risotto, a creamy mash of potato, celeriac, sweet potato or the like. While the gaminess of this dish suggests serving it with a Pinot Noir, I really enjoy food friendly wines such as
grenache
,
shiraz
Tempranillo, Mataro and their respective blends to accompany this meal... recently I've been enjoying it with the Paxton AAA Shiraz Grenache... Bliss!
..