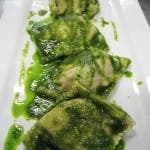 A couple of favourites combine to make an amazing meal. Plain old ravioli livened with a premium filling and a killer topping. Memorable dish!
Ingredients
Pasta:
500g '00' Flour 5 eggs tsp Salt
Ossobucco Filling
3 Ossobuco 1 carrot 1 onion 3 cloves of garlic 2 sticks of celery 250g tin tomato 2 glasses of red wine Fresh thyme, rosemary and parsley 1 egg 20g bread crumbs
Salsa Verde:
1 cup flat-leaf parsley leaves 1 cup basil leaves 1 garlic clove, chopped 2 teaspoons capers, drained (anchovies can be used as an alternative or additionally) ½ cup extra-virgin olive oil 1 lemon, juiced salt and pepper to taste
Method
Ossobucco filling:
Seal the meat in a pan and place on an oven tray. In the same pan brown all the vegetables and then place on top of meat in tray, pour over the wine and the herbs. Cover the tray with foil and bake in the oven at 220°C for an hour. When done let cool and then remove bones from meat and place all meat, vegetables and juices in a blender and blend. Put in a bowl and mix with parsley, egg and bread crumbs. This is the filing for the ravioli.
Ravioli:
Place the flour on the work top and make a well in the middle place the eggs and salt and then kneed to smooth dough. Roll out pasta dough into long strips and place a tsp of filling every 5 cm then cover with a second strip of dough. Cut out ravioli and push down sides and seal with whisked egg mixture making sure that there are no air bubbles trapped. Cook in boiling water until ready.
Salsa Verde:
Place parsley, basil, garlic and capers in a food processor. Process until finely chopped. With the motor running, add oil and 2 tablespoons lemon juice to parsley mixture. Process until well combined. Season with salt and pepper. Spoon the Salsa Verde over the cooked Ravioli to serve.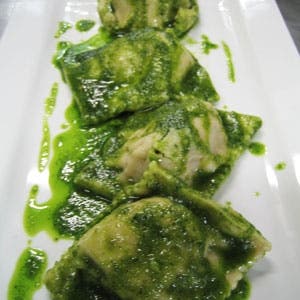 Recipe provided by:
..