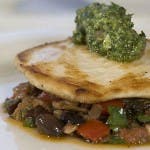 Grilled fish is always fun with a good white. Why not dare yourself with this zesty dish and pair it with a great white? Pun very much intended...
Ingredients
4 x 180g slices of Broadbill Swordfish
Caponata:
3 Eggplants 1 Onion 6 Garlic cloves 5 Vine rippened Tomatoes ½ Bunch Basil ½ Bunch Parsley ½ cup Toasted Pinenuts ½ cup Tiny Capers 150ml Olive oil
Salsa Verde:
2 Bunches Parsley 2tbs Tiny Capers 1 Oritz Anchovie 70g Stale Sourdough Bread ½ Clove Garlic 1 Boiled Egg ½ Lemon 100ml Extra Virgin Olive Oil 50ml Milk
Method
Dice the eggplant into 3cm cubes and deepfry untill dark golden brown. Place onto absorbent paper and set aside. Dice the onion into small dice & slice the garlic thinly. Pick all the leaves from the herbs and rince in a colonder. Blanch and deseed the tomatoes & chop into small dice. In a heavy based pot fry the herbs on a gentle heat to infuse oil, add the onions and garlic and continue to fry on low heat. When onion and garlic is soft add the toasted pinenuts followed by the rest of the ingredients. Check seasoning and put aside for use later. Remove crusts from sourdough and dice into large pieces. Put into a bowl and soak the bread in the milk, and put aside to absorb milk and soften. Pick the leaves from the parsley and put in mortar or food processor. Bash or blitz the the parsley so it breaks down slightly with a little oil. Squeeze the milk out of the soaked bread and combine with the parsley anchovies and the capers, continue to bash or blitz the mixture but not to fine, some texture is good, you want the capers to have some shape. Finally grate the whites of the egg with a very fine grater or microplane and add the lemon juice and some seasoning if needed.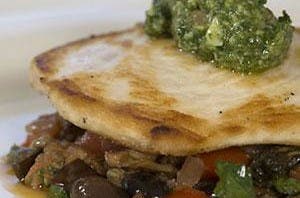 Recipe provided by:
..