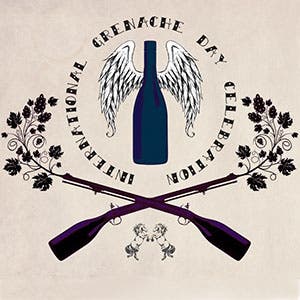 A simple premise, a simple plan...
To break bread, share a glass and have a good old chin wag with some great people. This was the mantra we set out with when we first said "hey we should have a Grenache dinner to celebrate International Grenache day". And after a few tweaks and re-interpretations, that is exactly what we ended up with on Friday the 19th September. The back drop to this was the stunning shop front and workshop that is home to The Props Dept and Justin Hermes Design. And a better place we could not have asked for to have our guests, no not guests, our friends, join us for dinner.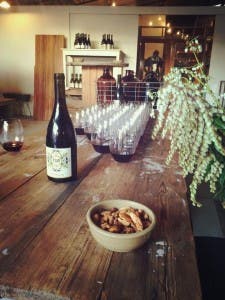 First drop off the rack was Year Wines 2012 Mclaren Vale Grenache and the words I heard a lot were "SO GOOD" (and not in reference the Delta Goodrem endorsed milk!). A beautiful way to start off the night - Luke and Caleigh make small batch Grenache from vines dating back to 1958 and the 2012 was their debut wine under their own label - and a pretty impressive one at that. Kate from Richard Hamilton was on hand to take us through the Burton's Old Bush Vine Grenache story whilst we tried Georgie from El Choto's first treat of the night in the form of some Banderillas Gildas; pickled garlic, white anchovies and Basque pepper skewers. Both the wine and food were delicious - a teaser of what was to come as by now the smell of our Paella cooking away had filled the room. We ushered our mates through to the dining area where Lino and Nino were the stars of the next course - Andy and Angela introduced their Lino Ramble 'Treadlie' GSM to the crowd who sat down to Nino's cured pork loin, some La Boqueria Longaniza Chorizo and Black Garlic - the added earth and spice of the GSM complimenting the cured treats brilliantly. Cometh the hour, cometh the paella - and what a paella; slow sherry braised rabbit and morcilla paella with artichokes. The morcilla (Spanish black pudding) gave the paella such a depth of flavour that the 2010 Schwarz Thiele Rd Grenache had a fair challenge on it's hands to match it. But match it did and the combo was definitely a highlight amongst many for the evening. If Year Wines Grenache was a bloody good start then Oliver's Taranga Banished Fortified Grenache was a brilliant finish. The 20 year old fortified's sweet vanilla and apricot flavours were the perfect foil for the Gorganzola Piccante and Cave Aged English Cheddar with caramelised figs. A perfect end to a perfect night. Self-indulgently I had set up a dining experience I'd liked to have gone to - sh*t-hot wine paired with sh*t-hot food in an amazing space with a soundtrack that included everything from early Misfits and the MC5 to Nick Cave, Neil Young and Elvis Costello! All with a group of people who seemed to embrace everything that food and wine should be about. Thanks to all that came - we had a blast! A simple premise, a simple plan... To break bread, share a glass and have a good old chin wag with some great people.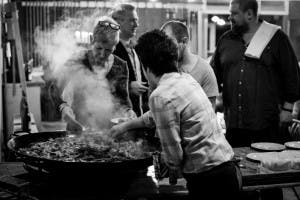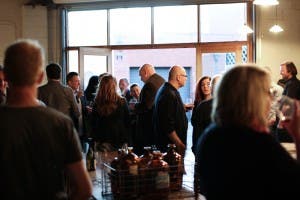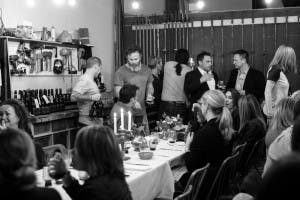 ..