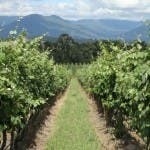 Yarra Valley, just an hours drive east from Melbourne, is one of Australia's great cool-weather regions. Chardonnay lives happily here, granting the wines notes of peach and fig. The real standout is Pinot Noir, that fickle red that challenges winemakers everywhere. The Yarra terroir is very suitable, producing complex wines with deep notes of berry and plum.
History
In many ways, the Yarra is one of the real survivors in the Australina wine industry. Vines and wineries were around as early as the 1830's, with names like St Huberts and Yeringberg garnering praise and getting attention overseas. Sadly, the economic downturn in the late 1800's hit the region's wineries hard, and by the 1930's vines were replaced by pasture. It was in the 1960's, as was the case elsewhere in Australia, that local Doc's got into the Yarra wine trade. This fostered a revival of plantings and winemaking in the region, with quality table wines popping up. St Huberts and Yeringberg re-opened, joined by a number of newcomers, including the region's first winner of a Jimmy Watson trophy (Chateau Yarrinya in 1978).
Visiting
The big boost to the region's premium wine production hit in the 1980's. Notable wine reviewer James Halliday set up shop at Coldstream Hills in '85, and Moet et Chandon followed a year later. Yarra was here to stay.
Today, over 80 wineries operate in the area.
..