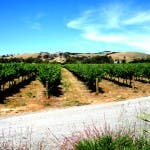 Less than 40km south of Adelaide, McLaren Vale is another one of South Australia's renowned Shiraz producers, accounting for roughly 50% of grapes crushed annually. The climate is markedly different from the Barossa, being much more Mediterranean with four clear seasons and higher rainfalls. McLaren Vale reds reflect this, showing deep complexity and power along with the ability to cellar for decades. While Shiraz grabs the most attention, chocolate-rich Cabernet Sauvignons, Chardonnays and Viogniers are worth sampling.
The climate is influenced by ocean breezes coming in from the Gulf of St. Vincent to the west and the altitude of the Sellicks Hill Range to the south. Soil type is varied, ranging from red-brown loam and sand to dark clay and the often-mentioned terra rosa. A misspell of the Italian phrase "terra rossa" (meaning "red soil"), this ruddy-red stuff is left behind when limestone breaks down, and any viticulturist will tell you it's great stuff to grow vines in due to the way water drains into it. All you need to know is it makes for good fruit, and the Vale produces lots and lots of good fruit. So drink up! (But responsibly, of course.)
History
Initially a region of cereal crop growers, we can thank John Reynell and Thomas Hardy (who begat Hardy wines) for planting vines in 1838. That legacy remains, with some vines in the area over 100 years old providing fruit to the 80-odd cellar doors operating in the region today.
Visiting
A popular tourist spot, the Vale is spoiled for choice of cellar doors. Wirra Wirra, Coriole, Penny's Hill, Leconfield – it's hard to go wrong, and when the tummy wants something solid, take a break at Market 190 for lunch. It's fantastic.
..