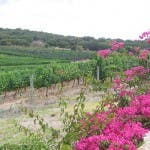 In terms of production, the Margaret River is a small player in the Australian wine world. Under 5% of Aussie wine comes from here, but over 20% of it is premium stuff. We're happy to see David beat Goliath in the award show if we keep getting those dry, fruity whites and supple reds. Go west, young man, and taste!
History
Much of the regions success dates back to the late 1800's when Italian immigrants Albert Credaro, Jimmy Meleri and Domenic Garuccio planted vines to make some of the good old table wines from the Old Country. Some learned gents took a punt on commercial production in the late 1960's, with the recommendation of the very learned Dr. John Gladstone in mind. The Doc pointed out the Margaret River region cool climate would give growers a fine yield of fruit to work with. Too right he was!
Visiting
Today the area attracts millions of visitors, with the wine being the bog drawcard to a stunning landscape of remarkable biodiversity and pristine coastline.
..