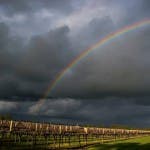 If there is one combination to look for when browsing for a good medium-bodied red, Coonawarra, terra rosa and Cabernet Sauvignon is always a winner. Far down the line from Adelaide (about 390km southeast, a grape's throw from the border of Victoria), the name is Aboriginal for "honeysuckle", yet reds from the region are more known for flavours of plum and blackcurrant.
The Coonawarra vineyard region is sparse, running along a thin 2km-wide ridge elevating it above surrounding swamp. World-renowned, this 15km stretch of red soil is so unique, it's worth looking it up on google maps and switching to satellite view to see how it is farmed. See that strip of green north of Penola? That's it, and notice the big spread of nothing around it? The Coonawarra is a very special place. Laying on an old ridge of limestone, the fields have superb drainage, allowing the vines to flourish without the dampness at night that can ruin a good crop. Very similar in climate to the Bordeaux region in France, it is a mere 60K from the sea (which provides good cloud cover in summer), yet little rainfall during the growing season ensure the grapes reach maturity with a minimum of rot. In simple terms, tricky varietals such as Chardonnay, Riesling, Sauvignon Blanc and (of course) Cabernet Sauvignon do very, very well here and produce superb wines.
History
Vines were first planted in 1890, but it wasn't until Samuel Wynn (of Wynn's Wines) saw the potential of the area for producing premium reds, and in 1951 purchased the original Riddoch Cellars. The rest is history, and best understood by sampling a glass of this amazing region's Cab Sav.
..