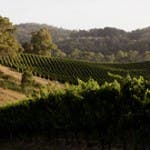 Considerably cooler than the surrounding plains, the hills are washed in rain during winter months, and the peaks wrapped in fog. It is considered a high rainfall region compared to other Australian regions, but outside of winter the climate is warm and dry. Night time temperatures are the feature - notably cooler than the day when the sun sets. Worth noting is how the average rainfall increases the higher you go, with Mount Lofty picking up 1400mm on the old splash-o-meter compared to 850mm just 10K down the road in Charleston. This range of moisture and altitudes results in a variety of soils, but in general are sand and clay loam over clay subsoils. A bit of shale and ironstone can be found, and the soil is acidic on average and rarely acidic.
The combination of climate and soil lends to superb cool-weather whites like Riesling (if you watch for mould), Sauvignon Blanc, Pinot Noir and crisp Chardonnays. Merlot, Shiraz, Cabernet Sauvignon can also be found, with the grapes maturing quite slowly in this climate, allowing the grapes to gain complex flavours.
History of Adelaide Hills, SA
There are 60 or more labels coming out of "The Hills" with 29 cellar doors in operation at the time this was written. The earliest recorded commercial vineyard was operated by John Barton Hack in 1839 (over near Mount Barker). Quite a few German migrants settling in the region in the early 1840s planted at Hahndorf and Lobethal.
Visiting Adelaide Hills, SA
A mere half-hour drive from the city centre, the Adelaide Hills are located in the Mount Lofty Ranges, stretching in a narrow band some 70km long. Comprised of lovely valleys and winding ridges, the highest vineyards are close to 600 metres altitude in areas such as Summertown, Piccadilly and Carey Gully.
..