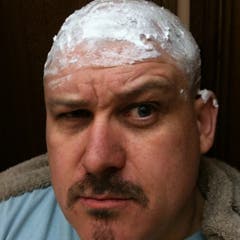 I'm a six foot two ex-Rugby player of Irish extraction with a deep love of northern European aromatic whites. I may look like I should be necking hearty reds from a bladder yet I have a cellar full of Riesling. I stopped playing rugby and swapped probing front rowers bottoms with my proboscis, finding much more pleasurable olfaction by pointing said proboscis at a glass of wine instead. My life of laissez faire leisure lifted off on leaving hospitality to explore a growing passion for wine with Europe's hoi polloi. I achieved my Wine and Spirits Education Trust certificates in Europe before returning to Australia to get a job slinging booze in various guises before settling in with winedirect.com.au. I have written definitively on, and judged wine for national wine mags and toured every bit of the country found under vine. Big, beautiful and full flavoured. That's enough about me, now let's talk wine. Cheers, Mark
These are a few of my favourite things...
| | |
| --- | --- |
| Favourite Food? | Anything but Brussels sprouts.. Ok, Seafood |
| Wine Du Jour? | Riesling |
| Preferred Music? | Nina Simone or anything that deserves malt whiskey |
| And to Relax? | Family |
..