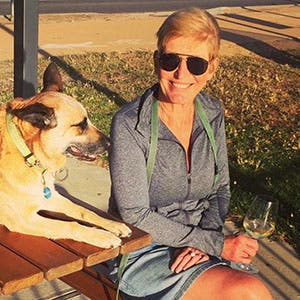 After years of working in professional services I moved into the wine industry and have been working with Wine Direct ever since. Being able to combine my love of wine and customer service, is a dream role.
Your favourite 'go to' style of wine
I enjoy a variety of wines (anything but Sav Blanc) and as I mainly drink wine at mealtimes, I choose my wine to match what I'm eating. Over the summer months I have been enjoying seafood and shellfish dishes which has meant enjoying an array of Champagne, Riesling and Chardonnay. Otherwise, when I'm hosting friends, I love to wander down to the local cliffs with my visitors to watch the sun set over the gulf waters, doing so with an indulgent glass of French bubbles in hand as we take in the beauty and joy of it all.
Your wine pick of the month
As we are transitioning from summer to autumn, Heirloom's 2016 Alcala Grenache. It's so accessible, while incredibly complex both on the nose and the palate. It's a stunning expression of old vine Grenache; an exceptionally well made wine that's incredibly elegant, yet powerful. Medium bodied with great depth and length on the palate, it has a flavour profile encompassing red and black berry fruit, hints of spice and pepper. Don't be put off by the RRP either, contact me for mates rates and you'll be pleasantly surprised.
What food you would pair your pick with?
The Alcala is a montey for accompanying a plate of charcuterie, pâté, rillettes or a cheese platter and a top seasonal match is fresh perfectly ripe fig, grilled with blue cheese and honey.
Why do you love working at Wine Direct?
The opportunity of being involved in the wine industry, and in my role, assisting customers with recommendations. I love the challenge of selecting wine that best suits customers by understanding their palate preferences and working within their budgets. Wine Direct allows me that scope.
..