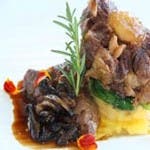 Soft, buttery stew in a bath of
shiraz
. Sure to chase the deepest winter chill out the door.
Ingredients
6 chunky rounds of oxtail 1 kg pig cheeks, cut into 2cm cubes ¼ cup plain flour ¼ cup corn flour 1 tsp smoked paprika 1 tsp ground cumin 1 tsp fennel seeds ½ cup ghee 1 cup tomato puree 4 baby leeks, washed and diced 2 medium onions, finely chopped 2 big carrots, finely chopped 2 sticks of celery, finely chopped 4 plump cloves of garlic, roughly chopped 3-4 sprigs of thyme 1 bushy sprig of rosemary 2 large bay leaves 1 whole star anise 1 litre Shiraz Juice of 1 orange, plus a strip of the peel
Method
Preheat the oven to 150°C. Cut off hard white fat from the oxtail. Put the flours and spice in a steady polythene bag with generous amounts of salt and pepper. Place in the oxtail and shake until all dusted with flour and spice, repeat the process with the cheeks. Heat ghee in a heavy based flame-proof casserole pot, large enough to hold all the meat and vegetables. Brown the meat in batches, cheeks first and than the oxtails about 4-6 minutes for each one. Remove from the casserole and keep to one side. Add the vegetables, herbs and star anise. Sweat over a gentle heat for about 5 minutes until starting to soften, then stir in the tomato purée. Add the browned meat (plus any accumulated juices), wine and orange juice and peel, season well. If the meat isn't totally covered by liquid add more Shiraz. Tuck a wet crumpled sheet of grease proof paper on top of the braise. Bring to a simmer, cover and place in the oven. Cook for about 2-3 hours, stirring halfway through, checking the meat – you want the fat to be soft and gelatinous and the flesh falling off the bones. Check the seasoning and spoon off as much of the fat as you can. Serve the oxtail and cheeks with freshly cooked soft polenta, torn basil and generous lashings of pecorino cheese.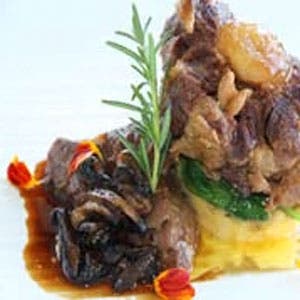 Recipe provided by:
..