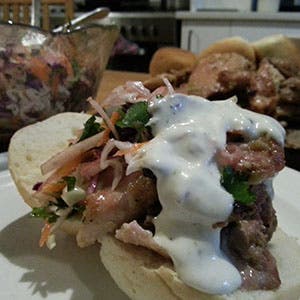 Riesling can be elegant and refreshing, the tang of zesty lemon and lime goes well with Asian cuisine, seafood and sushi or sashimi. Aromatic and citrusy, it carries similar flavours to those used in this marinade and in the slaw dressing and mayo. There's a mild sweetness in the riesling that works with the coconut but also a mineral edge that doesn't fight the fish sauce.
The chicken part of this recipe comes from the CSIRO Total Wellbeing Diet 2 book and is a fabulously tasty and healthy meal with their suggested accompaniment of steamed bok choy. But if you want to carb it up a bit and take things to a whole 'nother taste dimension, whack the chicken in a slider bun with some zesty lime mayo and a crunchy Asian slaw. This is fantastic picnic food or throw it all in bowls in the centre of a table for a summer session in the backyard. The zingy slaw and lime mayo are also excellent partners with pulled pork.
Marinated chicken
Ingredients
2 cloves garlic, crushed 2 teaspoons freshly grated ginger 2 spring onions (shallots), finely sliced 1 tablespoon chopped coriander stalks ¼ cup coconut milk 2 tablespoons fish sauce 2 teaspoons dry sherry (or Chinese rice wine) 1 tablespoon dark soy sauce 2 teaspoons sesame oil 1 large red chilli, finely sliced in strips (plus extra for serving) 800g chicken thigh fillets Small soft bread rolls (eg sliders or brioche or mini buns from Asian grocery stores)
Method
Place garlic, ginger, spring onions, coriander stalks and coconut milk into a food processor (or use jug and stab mixer) and blend. Add fish sauce, sherry, soy sauce, sesame oil and chilli and stir to combine. Transfer to a shallow dish or bowl, add the chicken and coat thoroughly in the sauce. Cover the dish and refrigerate for 1 hour or longer. Preheat oven to 200 degrees Celsius. Transfer chicken pieces to a rack placed in a baking dish and bake for around 35-45 minutes. Remove it from the oven and cover with foil and allow to rest for 5 minutes.
Asian slaw
Ingredients
1 cup finely shredded red cabbage 1 cup finely shredded white cabbage (or Asian cabbage) 2 carrots peeled and grated 1 green apple, julienned 1 cup chopped coriander 1 cup chopped mint 2 spring onions (shallots) thinly sliced
Slaw dressing
Ingredients
1 tablespoon fish sauce 2 tablespoons lime juice 2 cloves garlic, crushed 1 tablespoon brown sugar finely grated zest of 1 lime 1 teaspoon sesame oil 1/4 cup chopped roasted peanuts or walnuts
Method
Add all slaw vegetables and herbs to large bowl and toss to combine. Place all dressing ingredients (except nuts) in a screw-tight jar and shake (or whisk together in a bowl or jug). When you are ready to serve, add dressing to slaw with the nuts and toss through.
Lime mayo
Ingredients
4 tablespoons whole egg mayonnaise 1 small red chilli, seeded and chopped finely finely grated zest of 1-2 limes 2 teaspoons lime juice (use more to suit your taste - up to 2 whole limes if you want a super limey flavour) salt and freshly ground black pepper
Method
Combine all ingredients in a bowl and add more lime/salt/pepper to taste
Assembly
If you're feeding a crowd, serve chicken thighs whole or slice thickly, and pile onto a serving platter. Scatter with chopped coriander and sliced chilli. Place alongside the bowl of slaw and a jug or bowl of mayo and the bread rolls. Allow guests to serve themselves (provide plenty of napkins, it can get messy!).
..