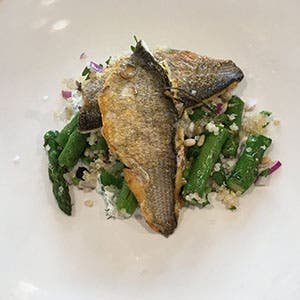 As you may have seen on our social media, the winedirect.com.au Christmas bash was held at
Sprout
. The event was a blaring success both in festivities and the calibre of headaches the following morning.. below is one of the recipes we prepared that evening. Pairing wise, we'd suggest something like the 2013 Heirloom Eden Valley Riesling, just to let the acid give the dressing a good shove. Enjoy!
Ingredients:
(Serves 4) 1/2 cup dry quinoa 1 bunch flat parsley 1/2 cup dill leaves (optional) 1 garlic clove, roughly chopped Zest and juice of a lemon 1/2 cup thick Greek yoghurt, reduced fat 4 x 150g white fish fillets, skin on Salt, to taste 1 bunch asparagus spears, cut into 3cm lengths 2 tbsp pine nuts 1/2 red onion, chopped 2 tbsp currants
Method
1. Combine quinoa in a saucepan with plenty of water. Bring to the boil and cook for 13-15 minutes or until tender. Drain and set aside. 2. For the herbed yoghurt, add to a food processor half the parsley (reserve the remaining parsley for tabouli), dill if using, garlic, lemon zest and yoghurt and blitz until well combined. Alternatively, chop herbs and garlic together then stir in the remaining ingredients. 3. Heat 1 tbsp of olive oil in a heavy-based pan over medium-high heat. Season the fish with a pinch of salt, then place fillets into the pan, skin side down. Cook for 2-4 minutes depending on thickness, turn over and turn heat to medium-low. Cook gently until just cooked through. Remove from pan. 4. Add the asparagus to the pan the fish was cooked in. Cook for 2-3 minutes or until the asparagus is tender. Add pine nits and stir to toast for a minute. 5. In a bowl, combine quinoa, asparagus, pine nuts, remaining parsley, onion, currants, lemon juice and olive oil. Divide between four plates, top with fish and spoon over herbed yoghurt.
..