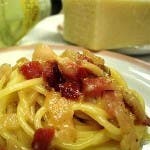 Not a fan of carbonara? Odds are you've never had a good one. Tricky to get right, but so rewarding when you do.
Ingredients
For one portion: 60 to 80gm spaghetti freshly cooked al dente 1 tb Extra virgin olivae oil 30g flat pancetta or guanciale 1 or 2 eggs, beaten 25g freshly grated Pecorino Romano and/or aged Italian Grana Cheese (Grana Padano or Parmigiano Reggiano) freshly ground black pepper
Method
1. Mix the beaten egg with grated cheese and grounded black pepper. 2. Slice the pancetta 7 to 10 mm thick and cut in 2 cm rectangular bites. 3. Slowly fry the pancetta in the extra virgin olive oil in a non stick pan until crispy. If the pancetta has enough fat you will not need to add oil. 4. Add the spaghetti with some of the cooking water, do not fry the spaghetti but rather just let it absorb the flavour of the pancetta. 5. Simmer gently until the water is almost gone. 6. Remove the pan from the stove. 7. Add the egg, cheese and pepper mixture to the pasta and stir quickly making sure the egg does not overcook but remains creamy. It shouldn't pass the 70-72 C° (158-162 F°) temperature, which is the point at which its coagulation starts. 8. Place in a hot pasta bowl. Season with grounded black pepper & serve immediately. Offer more black pepper and more grated cheese at the table.
Tips:
1. You cannot make a Carbonara with pre-cooked pasta 2. Cream is not an option but a gimmick, avoid it 3. If you like, you can mix the two cheeses 4. Timing is important when you serve this dish 5. Make sure the plate or bowl is hot 6. Do not overcook the egg, otherwise you will make spaghetti with scrambled egg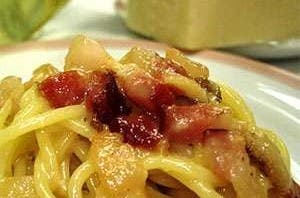 Recipe provided by:
..