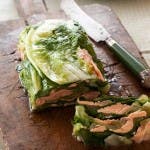 Terrina di lattuga romana e trota affumicata. An Italian salad featuring fresh, flesh flaked, boneless smoked trout.
Ingredients
4 baby cos (romaine) lettuces with outer leaves discarded 80ml (2½ fl oz/⅓ cup) white wine vinegar 60ml (2 fl oz/¼ cup) extra virgin olive oil, plus extra for drizzling 150 g (5½ oz) smoked trout, flesh flaked, skin and bones removed lemon wedges, to serve
Method
1. Separate and wash the lettuce leaves and place in a large bowl. Add the vinegar, oil and flaked trout. 2. Toss together and season to taste with sea salt and freshly ground black pepper, keeping in mind that the trout has a salty taste. 3. Place in a 21 x 9 x 5 cm (8 x 3.5 x 2 inch) terrine mould or tin lined with plastic wrap, cover with extra wrap and place a heavy weight, such as food tins, on top. Refrigerate overnight. 4. To serve, drain the juices, then turn out the terrine onto a chopping board. 5. Using a large sharp knife, cut into slices, place on serving plates, drizzle with a little oil and serve with the lemon wedges.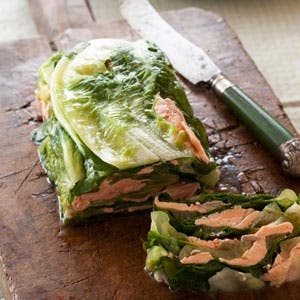 Recipe provided by:
..