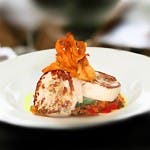 Leek lifts the humblest of dishes, and this is far from a humble chook recipe. Try it.
Ingredients
4 chicken breasts 200g chicken mince 3 leeks 1 brown onion 4 cloves garlic 30ml olive oil
Ragout:
1 red onion, finely chopped 4 garlic cloves, finely diced 1 stalk Rosemary 2 carrots, finely diced 1 aubergine (eggplant), finely diced 2 courgettes (zucchinis), finely diced
Sweet nut pumpkin puree:
400g butternut pumpkin 1 brown onion 4 cloves garlic 1 stalk rosemary
Method
Ragout:
1. Sauté onion, garlic and rosemary in a deep pan until golden. 2. Add all vegetables and cook on a low heat until vegetables and tomatoes have softened. 3. Add salt and pepper to taste.
Farce:
1. Finely chop onion, garlic and leeks and sauté in olive oil. 2. Allow to cool, then add the chicken mince, and season with salt and pepper.
Chicken:
1. Cut the chicken breasts in half without slicing all the way through. Lay the chicken on a bench top and softly flatten with a meat mallet. 2. Lay lengths of gladwrap (about 50cm long) side by side so that they are overlapping slightly. Place chicken breasts lengthways (10cm from the bottom of the plastic) also overlapping slightly. 3. Place farce along the middle of the chicken breasts for the length of the each piece. 4. Holding the bottom of the gladwrap (closest to you), gently roll the chicken over until a roll is formed. Roll tightly and tie off both ends of the gladwrap, rolling again in foil. Steam for 30 minutes in a commercial oven at 100°C or poach in boiling water for 20 minutes. 5. Once the chicken is cooked through, cool in a refrigerator and allow to set. 6. After the chicken has cooled, gently remove the foil and gladwrap, and slice the roulade in 2-3cm wide pieces. Once sliced, reheat the rounds in a hot pan, browning both sides. 7. Place three rounds of the chicken roulade on top of the warmed ragout, adding a teaspoon of the sweet nut pumpkin puree on top. 8. Garnish with fresh basil leaves or lightly fried sweet potato curls.
Sweet nut pumpkin puree:
1. Peel and roughly dice pumpkin. Roast until soft and allow to cool. 2. Finely dice onion and garlic, and sauté until golden in colour, adding in chopped rosemary. 3. Combine all ingredients in a food processor and puree until smooth. 4. Add salt and pepper to taste.
Recipe provided by:
..