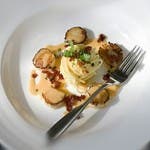 Lovely lighter take on pasta and scallops. Make the Angel Hair Pasta yourself to really own the dish... very nice!
Ingredients
24 Hervey Bay scallops (roe removed)
Smoked Tomato Beurre Blanc:
100g smoked tomatoes 100g semi-dried tomatoes 1 tsp smoked paprika 200ml oil 2 golden shallots 1 stick lemongrass ¼ fennel bulb sprig thyme 100ml white wine 100ml fish stock 1 tbsp white wine vinegar 150g diced butter 50ml pre cream juice of ½ lemon
Angel Hair Pasta:
150g plain flour 2 egg yolks 1 whole egg 1 tsp olive oil 2 tsp water
Smoked Tomato Salsa:
1 diced roma tomato 50g semi-dried tomatoes 25g smoked tomatoes
Method
For pasta dough, add all dry ingredients into food processor, then add eggs and oil. Process and slowly add water until a breadcrumb effect is obtained. Knead and wrap in cling film for a minimum of 30 minutes. To prepare beurre blanc, place smoked tomatoes, semi-dried tomatoes, paprika and oil into a blender and process until a fine purée is attained. Pour purée into fine muslin cloth and let hang for a minimum of 60 minutes whilst saving excess oil. Set purée aside. Sweat lemongrass, thyme, shallots and fennel in a knob of butter, then add white wine, fish stock and white wine vinegar and reduce by 2/3. Add cream and bring to the boil. Add cold butter incrementally whilst constantly whisking. Mix in 2 tbsp of smoked tomato puree. Season with lemon juice, salt and pepper. Pass sauce through a fine strainer and sit aside to keep warm For salsa, dice roma tomato, semi-dried tomato and smoked tomato. Fold in excess oil saved from making the puree. For final preparation of pasta, roll through pasta machine at number 4, fold and re-roll pasta dough to number 6. Add angel hair attachment and roll through. Let pasta hang for a minimum of 10 minutes to dry. Quick note: When cooking scallops, use a hot pan and sear only one side for approx 20-25 seconds. Turn over and seal quickly. Remove from pan allowing flesh to be approx medium rare.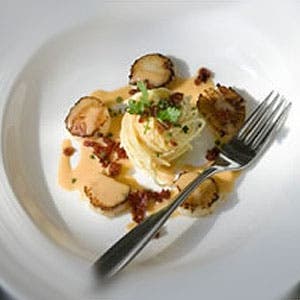 Recipe provided by:
..