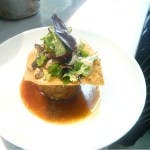 Delightfully light and tender pork with a fresh and zesty salad. An all-season pleaser, you betcha.
Ingredients
Pork Neck:
3L Orange juice 10 Cardamon 8 Star anise 6 Cinnamon 500g Brown sugar 1.5L Chicken Stock 1L Hoi-sin 800ml Beef jus (add only when reducing the sauce. Do not over reduce)
Salad:
Pickled shimeji mushrooms Crispy five spice wontons Purple basil Coriander Viet mint Shallots Pickled ginger Caramalised plum
Method
1. Trim pork, and add ingredients to a large braising dish and check seasoning. Cover with silicone paper and foil and cook for 3-4 hours on 165°C. 2. Remove from liquid and refrigerate for 10 minutes until cold enough to handle. 3. Roll tight in glad wrap and refrigerate till hard enough to cut. 4. Strain cooking liquid, reduce by 1/3 skimming off impurities and add beef jus. Do not over reduce the sauce. 5. Cut into 150g pieces place in a saucepan with a lid or on a baking tray and cover with foil with enough sauce to come half way up the pork. 6. Place in the oven for 8-10 minutes (until hotter than 55°C).
For the salad:
1. Pick all the fresh herbs together into ice water and spin dry 2. Fry the wontons and dust with 5 spice powder immediately. 3. Cut plums in half remove stone and place on baking tray skin side down and cover with brown sugar and grill until just soft and sugar has melted. 4. To plate this dish place the pork in a large pasta bowl with about 100ml of the sauce. 5. Combine herbs and pickled ginger, season with salt and pepper and a little olive oil, place plum on top of pork and arrange salad on the plum, place the wonton on top to finish.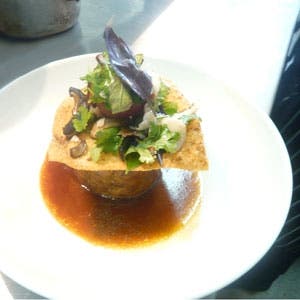 Recipe provided by:
..