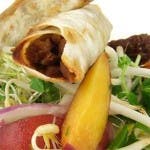 Sweet and spicy, everything nice-y! A lovely nibbler.
Ingredients
(serves 4)
Duck Pancakes
1 roasted peking duck (1.8 – 2.4kg) 100ml hoisin sauce, plus extra for wrappers ½ bunch coriander and roots 50ml sweet chilli sauce 50g finely chopped ginger 50g finely chopped garlic 20 pre-made pancake wrappers
Salad
1 red onion finely sliced Alfalfa sprouts, Snow pea sprouts Bean shoots 50g pickled ginger 1 peach finely sliced ⅓ bunch fresh coriander, 1/3 bunch fresh mint 50ml Nam-Jim Dressing
Nam-Jim Dressing
⅓ cup brown sugar ½ crushed clove 1 cup soy sauce ½ cup mirin 1/6 cup sweet chilli sauce 1/6 cup sesame oil ⅓ cup fish sauce 1 tsp grated fresh ginger 100ml lime juice ½ tsp crushed fresh chilli
Method
Dressing:
Place all ingredients into a bowl and whisk thoroughly.
Pancakes & Salad:
Strip cooked meat from the peking duck and dice the meat in large pieces. In a bowl, combine the meat with the hoisin sauce and chopped coriander. Lay pancake wrappers out on a bench and pipe a thin strip of the extra hoisin sauce across the wrapper. Place preferred amount of duck meat along the strip of sauce and roll the pancake into a cylinder shape. Place duck pancakes into a moderate oven (180°C) for 10 minutes or until slightly brown. Place mixed salad items onto a plate and stack 2-3 pancakes on top. Drizzle with Nam-Jim dressing and serve.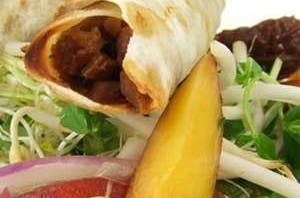 Recipe provided by:
..