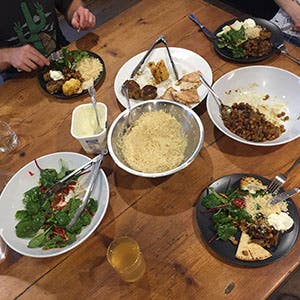 Moroccan flavours are some of my favourite. Generally, in common with Italian, Indian and many other cuisines, the food choices depend on what's local, in season and cheap. Moroccan food for me has the perfect blend of exciting spices and aromas, fresh herbs and accompaniments and the permission to make food organically sweet. Honey, dried fruits and fruit juices are all up for grabs. Not to mention, it's always fun when you have three or four different things to choose from on the table!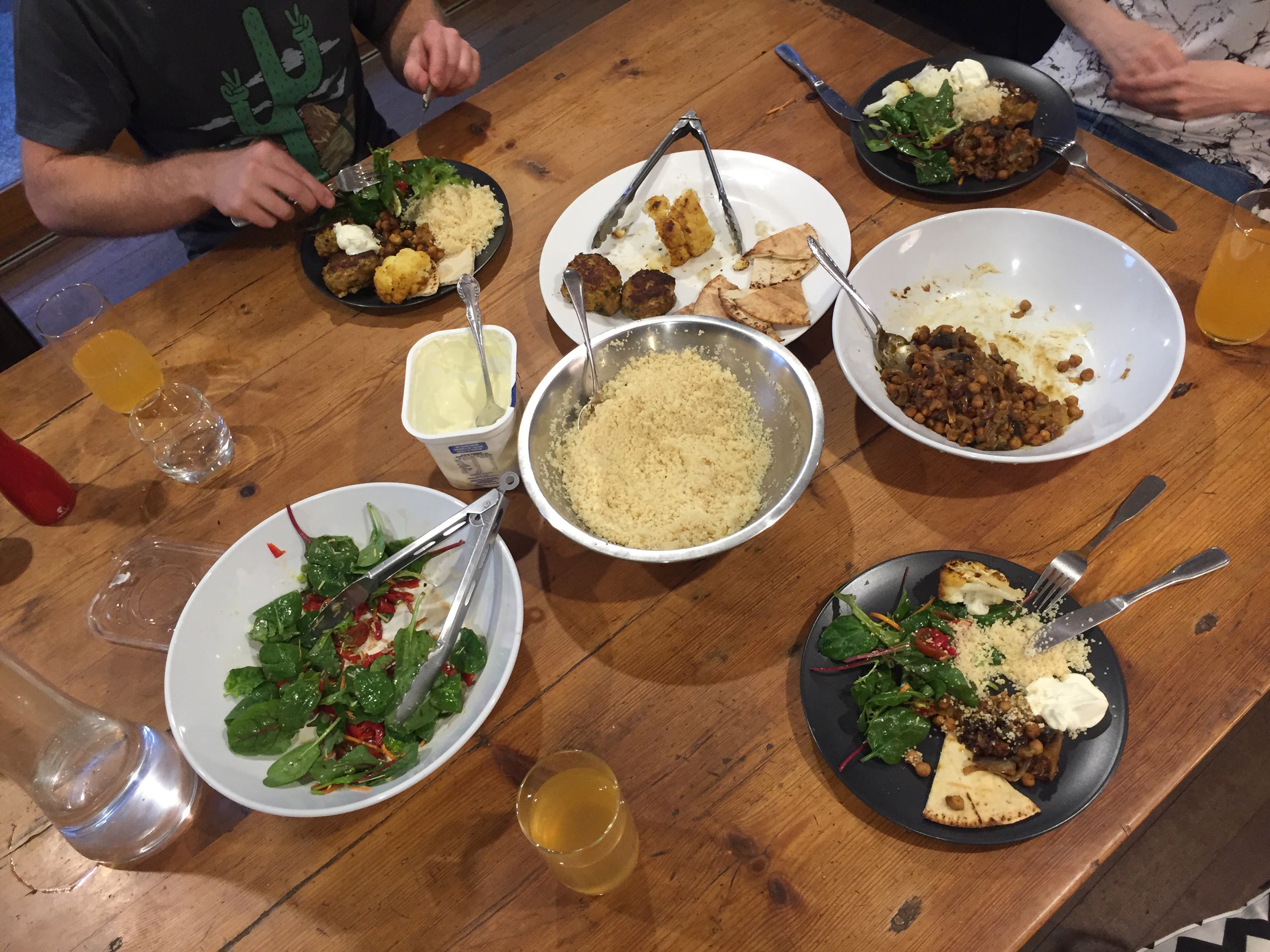 Ingredients:
For the meatballs:
500g (pork) mince 1 egg 1/4 cup flour 1 tblspn ground cumin 2 tblspn ground coriander A splash of a tomato/chilli based sauce - hot sauce, tobasco, worster, HP.. tomato relish even - just to add a bit of interesting moisture. A bunch of chopped parsley and or mint A squirt of olive oil Salt and pepper
For the cauliflower:
1 half cauliflower Smokey paprika Olive oil Grated garlic Salt
For the tagine:
4 onions sliced roughly - can be all red, but brown and red is a nice balance 1 eggplant chopped into chunks 1/4 cup pitted prunes or dates 1 tblspn honey 1/2 cup water Juice of one orange 2 cloves crushed garlic 1 tspn Ras el Hanout 2 tspn ground cumin 2 tspn ground coriander 1 tspn ground cinnamon Salt and pepper Method: Firstly, get your tagine happening. You can either do this in a traditional tagine or a deep frypan with a lid on the stovetop. The aim here is to gently cook everything - resist the temptation to fry with too much heat. Add in the onions and garlic with a glug of olive oil over medium heat. After 5 minutes with the lid on, add the eggplant and prunes. After a couple of minutes of stir-frying, add spices, honey and orange juice. Pop the lid on and turn the heat down. Add some water after 15 minutes, stir and replace lid. While this caramelises, make your meatball mixture. Combine ingredients and set aside. The cauliflower can be done now too. This works well on a BBQ (a bit of charring at the end is fun) so preheat if its an option, or else just get your oven heated up at 200C. Coat the cauliflower all over with garlic, olive oil and lots of smokey paprika. Wrap in foil and place in oven. It will cook in its own heat and steam, absorbing the flavours nicely. (TIP: this cauli can make an entire meal!) Your tagine should be more or less ready and caramelised now. Taste and season, if it needs it. Heat up a pan with some oil (or a BBQ hotplate) for the meatballs once the cauliflower has head about 20 minutes cooking time. I like to use a lid to keep moisture in when cooking meatballs, but that's personal. When your meatballs are almost done, take the cauliflower out of its foil and give it a bit of charring action in a pan or on the grill. Meanwhile, get some couscous and a simple green salad ready to accompany (I add butter, olive oil and salt and pepper to each couscous dish to give flavour.) Serve with fresh yoghurt, fresh parsley and a couple of orange wedges for good measure. What the heck do you drink it with? The sweetness and flavour intensity needs some acidity from a white wine. Try a Howard Vineyard Sauvignon Blanc, Tim Adams Protege Riesling or maybe the new Yalumba Y Series Viognier. Enjoy!
..