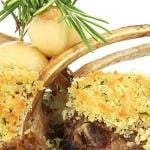 Lovely, sweet lamb with a lifting crumb. So good, treat it to a nice red and they'll be begging for more and more.
Ingredients
(Serves 4) 4 four-bone lamb racks 1kg Jerusalem artichoke 1 cup cream 250g sweet potato, peeled and diced 100g confit garlic 10 tsp garlic herb crumbs 2 sprigs rosemary ½ bunch lemon thyme 2 bunches broccolini
Method
Artichoke Puree:
Boil the artichoke until it is cooked through. Roast the diced sweet potato. Using a food processor, blend the artichoke and cream together, before seasoning and adding the sweet potato. Blend until a smooth puree is formed.
Confit Garlic:
Slowly fry the garlic off in a little olive oil until it becomes soft. Keep the oil for the garlic herb crumbs.
Garlic Herb Crumbs:
Mix the lemon thyme, breadcrumbs and 1 tsp of the garlic oil from the garlic confit together.
Lamb Racks:
Cut each lamb rack in half and seal in a hot pan, before placing in the oven at 180°C for five minutes. Remove from the oven and cost one side with the garlic herb crumbs. Return to the oven for another 10 minutes. In the meantime, reheat the artichoke puree and cook the broccolini in boiling water until tender. Place a spoonful of the artichoke puree in the centre of a plate, the broccolini next to it and place the two halves of the lamb rack on top. Dress with confit garlic, fresh rosemary and finish with a spoonful of homemade jus if desired.
Easy Homemade Jus:
Combine a bottle of good red wine and 1 litre of beef real stock. Simmer on a low heat until it has reduced and thickened.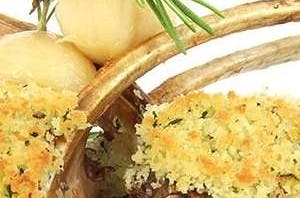 Recipe provided by:
..