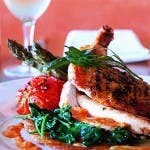 Green pesto is so 80's. Get red!
Ingredients
(Serves 4; ½ hour) 4 x free range chicken breasts Sprigs of rosemary, thyme, sage Clove of garlic 100g rocket 150g sundried tomatoes 400g cooked kipfler (or chat) potatoes 2 avocados 2 large red capsicums 50g pinenuts 30g shaved parmesan 1 lemon Extra virgin olive oil
Method
1) Whilst heating oven to 200°C, marinate chicken and potatoes in crushed garlic and torn herbs, sprinkle of sea salt and cracked black pepper. 2) Roast capsicums in hot oven (200°C ) until skins are blackened. Cool down and remove skin and seeds. Blend in food processor with pinenuts, parmesan, half a squeezed lemon, and a splash of olive oil. Season to taste. 3) Remove chicken from marinade and lay on a foiled baking tray, roast off potatoes in hot oven for 15 minutes. Then add chicken for another 15 minutes or until cooked. 4) Toss potatoes in a bowl with sliced sundried tomatoes, avocado and roquette and dress with the rest of the lemon. 5) Slice chicken and lay it upon the salad then drissle with red pesto.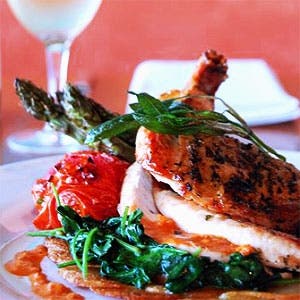 Recipe provided by:
..