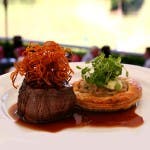 A hearty plate for a hearty red. Put the fire on and be ready to put your feet up afterwards!
Ingredients
2 x 220g eye fillet 1 sheet of short crust pastry 4 brown onions ½ cup brown sugar 2 tbs Persian fetta 1 medium carrot 100ml red wine jus (any simple recipe)
Method
Vol au vont
1. Cut two large circles out of a sheet of short crust pastry using a small plate as a template. 2. Brush the top of one of the circles with simple egg wash (1 whisked egg), then place the other circle on top. Score a slightly smaller circle (1 cm smaller in diameter) into the top of the pastry circle, brush with egg wash and cook for 10 minutes at 180°C or until golden brown. 3. Meanwhile, finely slice the onions and sauté in butter. Add brown sugar and cook until the mixture has a jam like consistency. 4. To make the carrot curls, peel the carrot and then using the peeler, gently shave the carrot into fine strips. Deep fry the strips until crisp. 5. With a small knife, follow the premade marks on the pastry and remove the middle section of the top circle. This will create a bowl-like shape from the pastry). 6. Place the onion jam in the middle and fill until level with the rim of the pastry. 7. Place Persian fetta on top and bake for 5 minutes at 180°C. 8. Serve the vol au vont (topped with fresh watercress) next to the eye fillet on a plate and drizzle with a simple red wine jus. 9. Perfect with a glass of full bodied red wine!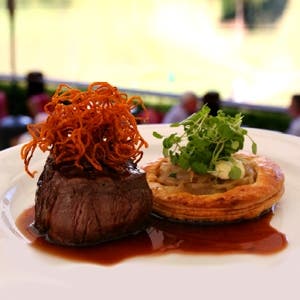 Recipe provided by:
..