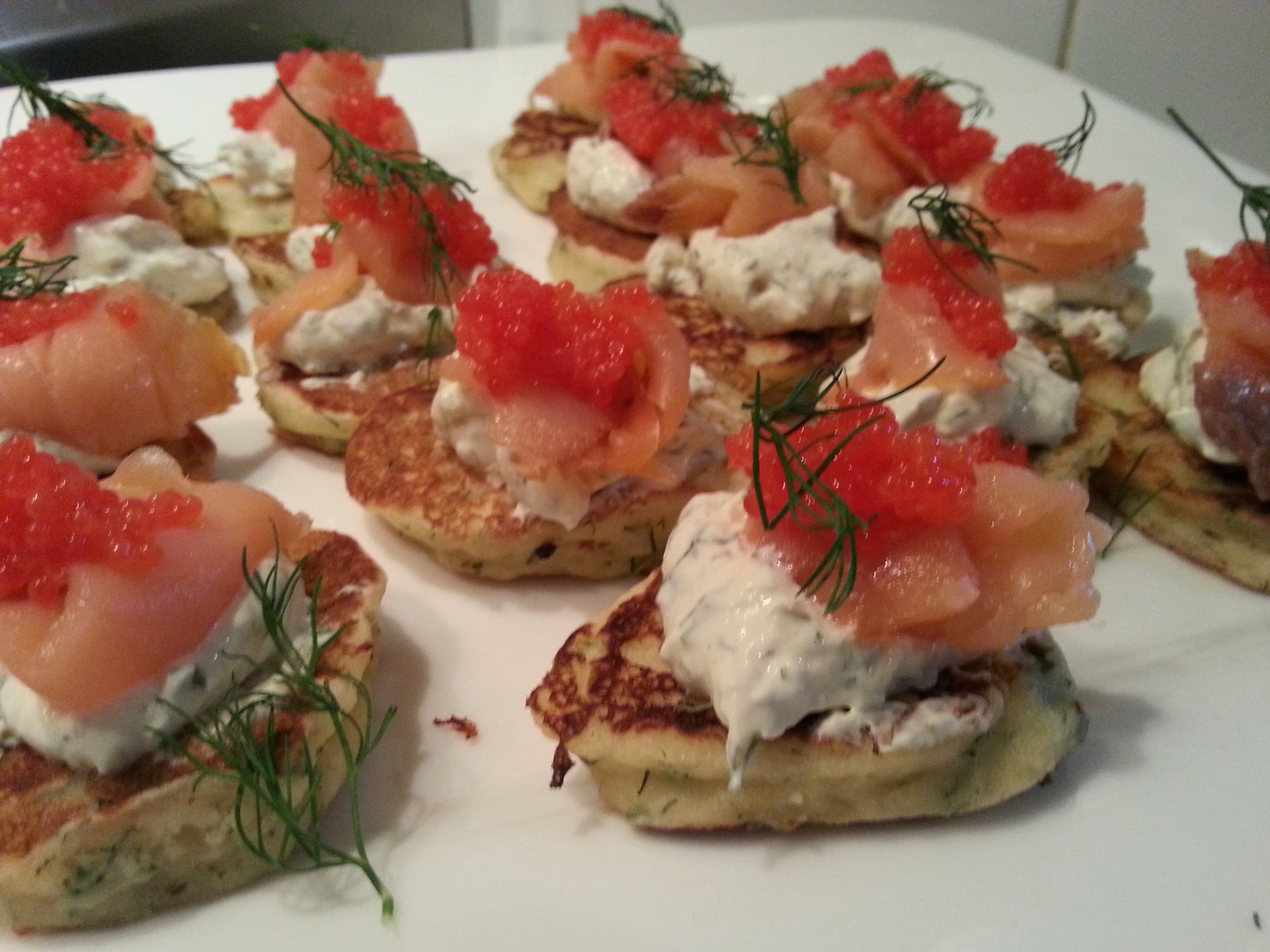 Tiny mouthfuls of deliciously light canapes deserve perfectly elegant bubbles with a delicate fruitiness with a soft fizz ideally in a dry style. The flavours in these canapes are classic, elegant and a little show-offy. If you want to nail the presentation and don't trust your blini making skills you can buy premade blini in most fresh fish shops or continental delis. But if your guests won't walk out on you for a slightly more rustic look, then give them a try from scratch – what they lack in precision and uniformity, they more than make up for in flavour and fluffy lightness. As a dinner party starter, or a bring-a-plate-to-a-party nibble, these canapes can stand alone – assemble them with care and you can step away from the bench, your work here is done and people will praise you with nods and grunts while they scoff the lot.
Dill blini (makes around 25-30)
Ingredients
½ cup plain flour 1 teaspoon baking powder 2 tablespoons finely chopped dill 2/3 cup buttermilk 1 egg 25g butter, melted Olive oil or cooking spray Blini topping 125g crème fraiche 1 tablespoon finely chopped dill 1 tablespoon finely chopped capers 1 tablespoon horseradish sauce 1 tablespoon lemon juice 100g smoked salmon cut into strips Salmon roe or caviar Dill sprigs
Method
Sift the flour and baking powder into a bowl and stir in the dill. In another bowl combine buttermilk, egg and melted butter. Gradually whisk this into the flour mixture but don't over mix. Put the blini batter aside for 15 minutes in which time it will expand and fluff up a little. Add a little oil or cooking spray to a large non-stick frying pan over medium heat. Drop 1-2 teaspoons of batter per blini* into the pan and when small bubbles appear on the surface, carefully flip over and cook for another 1-2 minutes until browned. Transfer to a plate lined with baking paper to cool and repeat with remaining batter. *You might need to test the quantity of batter required to produce the desired size of blini. To serve, top blini with a dollop of the crème fraiche mixture and a loosely curled strip of smoked salmon to give it some height. Finish with salmon roe or caviar and a sprig of dill. As an alternative you could use smoked trout in place of the salmon for an even more intense smoky flavour.
..