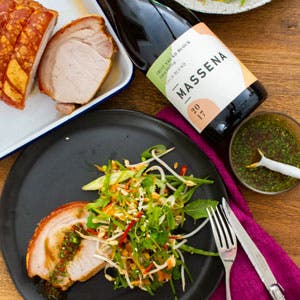 Pork is one of my favourite meats to eat – so versatile and great at anytime of the day too! This dish calls on my times travelling around Asia and having crazy good crispy skin pork, unbelievably flavourful dipping sauces and fresh & spicy salads.
When thinking of a wine to pair with this dish it was honestly a no brainer - Massena Field Blend. Like all wine it can defo be enjoyed on its own but I found this one to be more of a food wine. The complexity, light flavours of melon, lemon & ginger were a match made in heaven for this crispy skin pork with papaya salad and Thai nam prik dipping sauce. Don't believe me? Try it for yourself!
To view the full recipe, please visit me at Another Food Blogger and be sure to follow me on insta for more cool recipes.
..