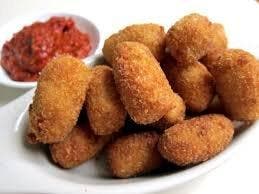 Prepping the breasts
Take a couple of chicken breasts and butterfly them. Add 2 crushed garlic cloves and 2 teaspoons of smoked hot Spanish pimento to chicken stock and simmer the breasts with until just cooked through. Add white pepper to taste and set aside, reserving the stock.
Make breadcrumbs
Take a decent loaf of something flavoursome … sourdough or wholemeal, slice and bake at low heat to dry. Wizz it in the wizzer thing, lay the crumbs on a baking tray and bake for a few more minutes. Wizz again
Making the Roux/béchamel
You want this to be pretty thick, so up the flour quotient over what you would use to make a sauce for a lasagne Cook the flour in a mix of olive oil and butter, slowly adding a combination of chicken stock and hot milk. You could use some dry white wine too, but not too much. When it is cooked through and has a thick consistency, head over to the wizzer. Add the Chicken breasts and the Roux and mix till completely incorporated. Put the mix in an airtight container and put it in the fridge for a few hours…
Here's one you made earlier
Take the mix out of the fridge, and with wet hands, shape into small logs, about 5 cm in length. Then roll in the breadcrumbs until well coated. Fire up the Smeg – to about 180 degrees and cook until the crumbs have taken a good bit of colour.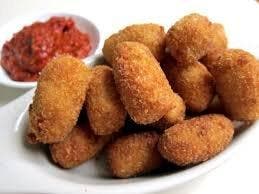 Serve with Aioli and if you've made 'em spicy try with a wine with a wee bit of residual sugar, otherwise Picardy Chardy goes nicely... or with a nice medium bodied red if you're serving it up with other tapas-style dishes.
..