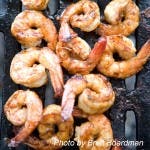 Don't let the prawn on the barbie cliche spook you. This is as contempo as you care, but why would you? Just enjoy.
Ingredients
24 large raw king prawns, peeled and deveined, tails left intact 185ml Asian marinade (see below) Green salad, to serve
Asian Marinade:
70ml grapeseed oil 1 tb sesame oil 1 cm piece ginger, finely chopped 1 garlic clove, crushed 1 tb oyster sauce 2 tb kecap manis 1 tb fish sauce Red chilli, finely chopped, to taste (optional) Makes 1 cup.
Method
Asian Marinade:
Put the grapeseed and sesame oils, ginger, garlic, oyster sauce, kecap manis, fish sauce and chilli into a bowl. Stir to combine and use as required. Asian marinade can be stored, covered, in the refrigerator for up to 2 days.
Prawns:
Place the prawns in the Asian marinade for 1 minute before cooking, then chargrill on a preheated barbeque plate over high heat for 2 minutes on each side, or until the prawns turn pink and start o curl. Serve the prawns with a green salad. Note: you can also cook the prawns in a wok over high heat, tossing for 2 minutes, or until they turn pink and start to curl.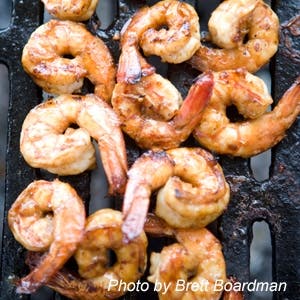 Recipe provided by:
..