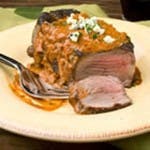 Looking for something to stand up to that big, bad red? Look here. And throw some garlic mash on the side.
Ingredients
60 ml olive oil 4 (6 ounce) beef tenderloin steaks salt and pepper to taste 1 small onion, minced 7g paprika 60ml dry white wine 120ml beef broth 115g Spanish blue cheese, such as Cabrales or Valdeon 8g chopped parsley
Method
1. Heat olive oil in a large skillet over medium-high heat until smoking. Season steaks to taste with salt and pepper, then sear on both sides in hot oil. Reduce heat to medium and continue cooking until steaks reach desired doneness, about 6 minutes for medium-rare. Remove steaks from skillet and keep warm. 2. Stir in minced onion and cook until softened and translucent, about 5 minutes. Season with paprika and cook for an additional minute. Increase heat to medium-high, then pour in wine. Simmer until the wine has reduced by half, then add the beef broth, return to a simmer, and cook for 2 minutes.Stir in the crumbled blue cheese until just melted. 3. To serve, pour the sauce over the steaks and sprinkle with chopped parsley.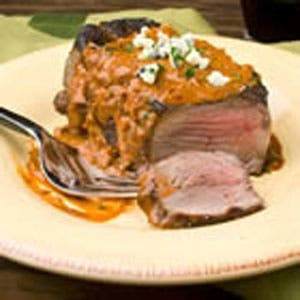 Recipe provided by:
..