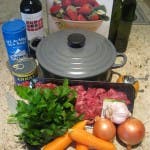 A winter staple in the boss' household. It's hearty, delicious and is a great excuse to open a bottle of
red wine
in the middle of the day!
Ingredients
4 bacon rashers – chopped 1 large brown onion – chopped 2-4 garlic cloves – finely chopped 1 kg beef chuck steak – cubed Plain flour 1 cup dry red wine 1.5 cups beef stock 1 can crushed tomatoes 3 medium carrots – sliced 12 small button mushrooms – sliced [you could also substitute a tin of whole champignons] Small bunch continental parsley
Method
Preheat oven to 160c Heat olive oil in a large, heavy based oven-proof casserole dish over low heat and cook bacon for 3 mins. Add onion and cook until soft. Add garlic and cook until aromatic. Remove mixture from dish. Put aside Add fresh oil to the dish and cook ½ the beef for 1-2 mins over medium-high heat until browned. Sprinkle meat with flour and cook for further minute. Remove beef and set aside. Repeat with remaining oil, beef and flour. Remove and set aside. Add wine to the pan and bring to the boil over medium-high heat. Cook for 1 minute, scraping the base with a wooden spoon to dislodge any residue. Return onion mixture and beef to the pan. Add stock, tomatoes, mushrooms and carrots and stir to combine. Bring to boil over high heat. Cover the pan/dish and cook in preheated oven for 2 hours or until beef is very tender. Remove from oven. Season with salt and pepper to taste. Stir through chopped parsley. Note – this recipe is suitable for a slow cooker but ask your butcher for a cut of meat that will respond well to 7 + hours of cooking.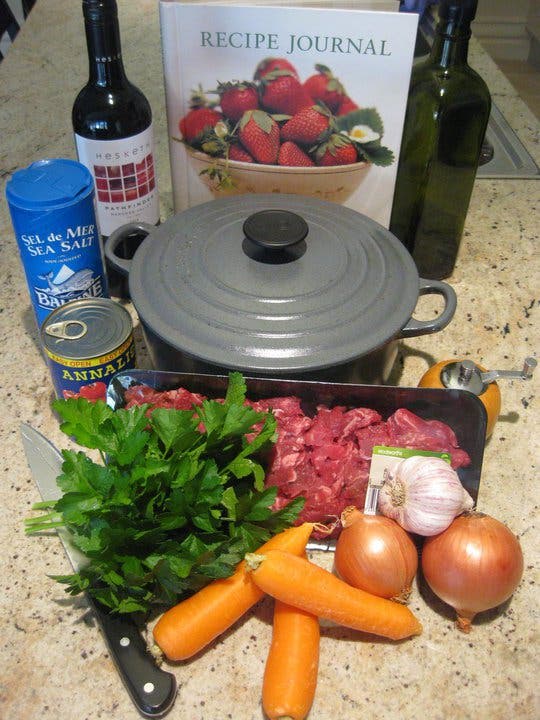 ..