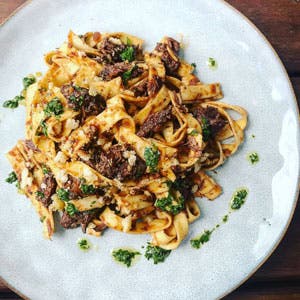 This is our go to dinner in my home. If you haven't had beef cheeks then you are missing out! Granted this recipe takes a little time to make but the beauty of it is it freezes AWESOMELY.
At this stage we have been eating it every week for 3 years and still not bored!! Imagine yourself on those colder evenings when you are looking for a nice red to warm your soul but not leave you with that "I've been drinking wine feeling" well, look no further than the smashing Conte di Campiano Nero di Troia. The wine is rich and full offering lots of complexity and tons of flavour. The tannins are super smooth, there is good acidity, tons of fruit and delish smokey licorice flavours. When sitting on the couch with a bowl of hearty ragu you want a wine that will stand up to it but not overpower – these guys are a match made in heaven. Think Bonnie & Clyde, Will & Grace or Marge & Homer.
To view the full recipe, please visit me at Another Food Blogger and be sure to follow me on insta for more cool recipes.
..