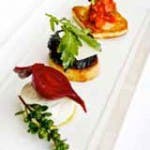 Is there a better way to get a party started than a shared plate of this gear?
Ingredients
Marinated Gympie Farm Goats Cheese
250g gympie farm goats cheese log (cut into 6 widthways) 125ml virgin olive oil 4 sprigs fresh thyme ¼ tsp fennel seeds, toasted 2 cloves garlic, smashed 8 black peppercorns
Pickled Beetroot
12 baby beets 125ml red wine vinegar 35g sugar 3 bay leaves ¼ tsp coriander seeds ¼ tsp black peppercorns 250ml water
Field Mushroom Bruschetta
2 tbsp olive oil 12 field mushrooms sea salt and freshly ground black pepper Knob of unsalted butter 60g rocket Balsamic vinaigrette 4 slices of sourdough bread Tapenade Neat shavings of Parmesan 4 lemon wedges
Seared Haloumi, Salsa Rossa
2 tbsp olive oil Garlic Chilli Marjoram Tomatoes Capsicum Haloumi
Methods
Marinated Gympie Farm Goats Cheese
Combine oil, thyme, fennel seeds, garlic and peppercorns. Pour over cheese to marinate. Serve with a few crackers.
Pickled Beetroot
Cook beets in boiling salted water for 30 minutes and tender. Drain, cool and peel. Combine vinegar, sugar and spices with water and simmer for 5 minutes. Pour, whilst hot over beetroot.
Field Mushroom Bruschetta
Preheat oven to 220°C. Heat the olive oil in a heavy-based, ovenproof frying pan over medium heat. Add the mushrooms, toss briefly, and then season with sea salt and black pepper. Add the butter, then transfer the pan to the oven and bake for 5 minutes. Drain the mushrooms on paper towels. Keep warm. Toast sourdough, spread with tapenade and top each with 3 mushrooms. Scatter with shaved Parmesan. Arrange the rocket dressed with balsamic vinaigrette on top. Finish with a lemon wedge and a twist of black pepper.
Seared Haloumi, Salsa Rossa
Heat olive oil and fry garlic until it just starts to colour. Add chilli, marjoram and tomatoes, cook for 30 minutes and reduced. Add capsicum dice and cook for further 10 minutes. Season. Serve with a slice of seared haloumi.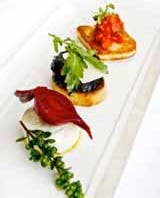 Recipe provided by:
..