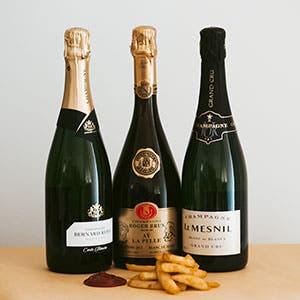 We've never written about pairing wines with food 'out of the freezer or can' but now seems like a pretty good time...
Most of us have stocked up on non-perishables over the last little while, sensibly of course! At WDHQ we're finding we can't always make a dish the way we might like to. Can't get rice, might have to use quinoa, no quinoa, umm, make cauliflower rice, no cauliflower, looks like we are eating the damn stew by itself. Every so often, just eating straight out of the can or freezer becomes the order of the day. If you have been working from home, managing the kid's schooling and generally just trying to stay sane, here's our guide to wine matching with the feasts that are foisted upon us.
---
Baked Beans & Richard Hamilton Colton's GSM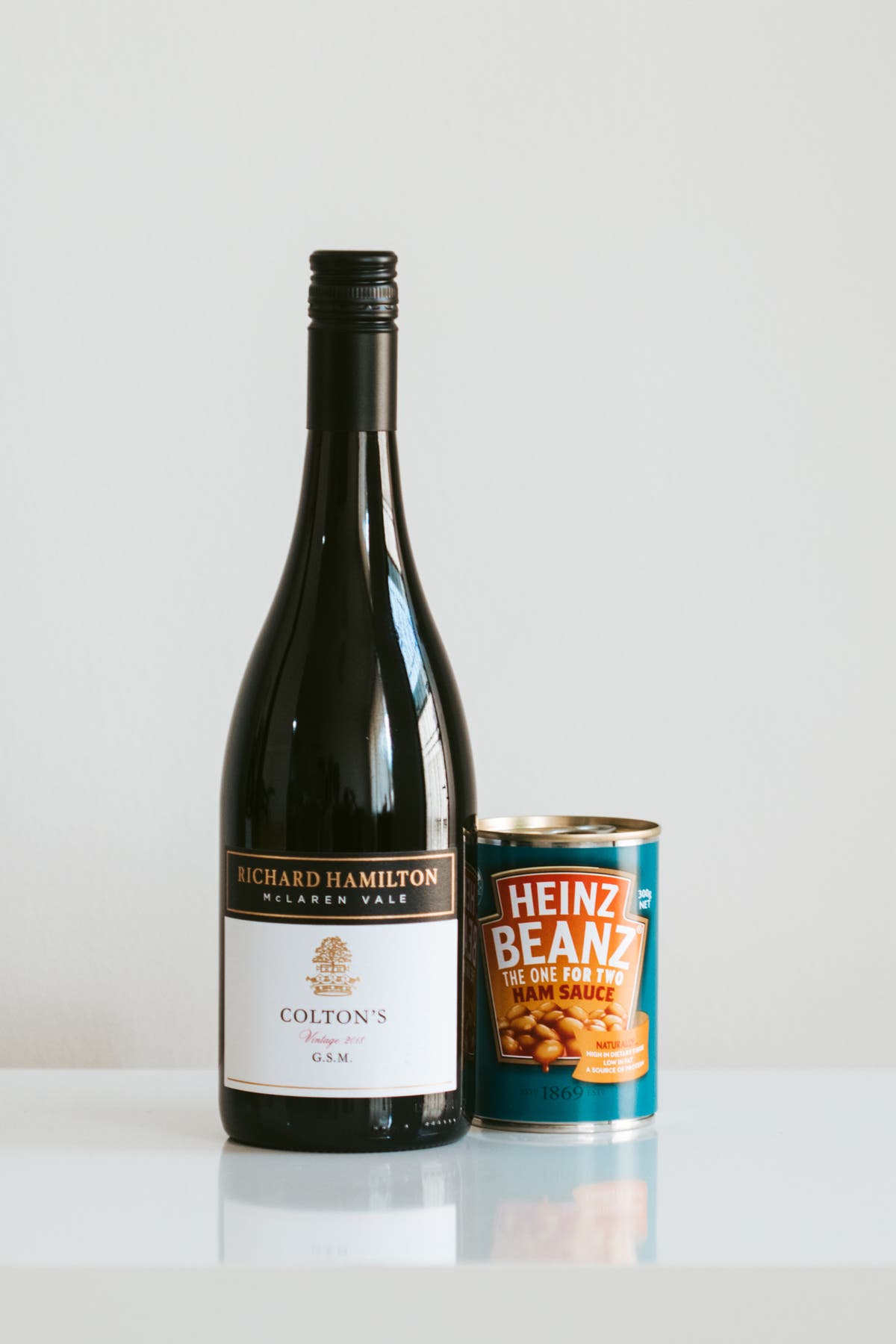 Of course the 'in ham sauce' edition has more flavour and works with a greater array of wines - our recommendation is the Richard Hamilton Colton's GSM. This might be a match made in heaven here, or heavin' if you're not a fan of the humble Baked Bean. As an added bonus, the wine is also absolutely brilliant on its own, the perfect wine to enjoy during the arduous meal prep.
---
Hot Chips and Champagne
Yeah, it's a thing and not even a compromise. Salty carbs, crispy but fluffy on the inside, who would have thunk it - Champagne is a dream with hot chips. Preferably the kind of hot chips you make at home or have delivered from your local chippy. For that magical touch, drizzle a bit of truffle oil over them (if you are lucky to have it on hand).
---
Spam and Kaesler 'Stonehorse' GSM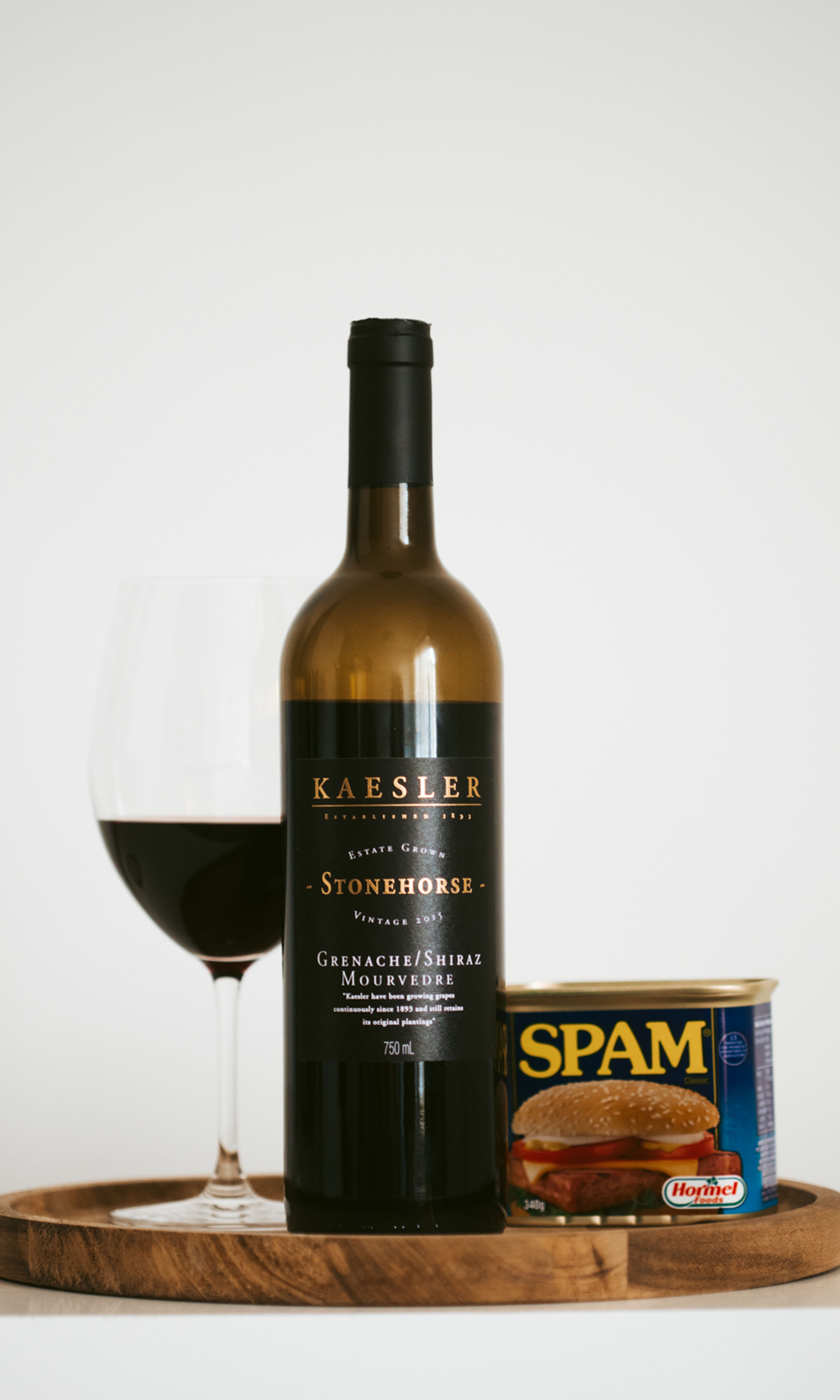 Controversy time... there are those who argue that Spam is the Champagne of canned meats and works synergistically to improve any wine blessed to be served in its presence. Mostly marketing types to be fair. Others suggest (most of us I suspect) that wine works best with Spam as a preparatory. Well, if you have to choke this stuff down, let's at least get comfy first? To be fair, Spam, ahh never mind… If you (have to) eat Spam, a big rich red is the go. A red with enough fruit sweetness to balance the saltiness, enough tannins to counter the gelatinous aspect for which Spam is 'celebrated'. Our recommendation is the Kaesler 'Stonehorse' GSM. Rich, smooth and silky it'll ease the passage of the Spam a treat.
---
Frozen Pizza and... well it depends on the pizza!
You know, the one that got poorly wrapped in foil and has been living in the bottom of the freezer in the several months since Dad's birthday. The one that is a bit frost bitten but, needs must, is still salvageable? First, run a bit of water over it to knock off any of the ice (we're not savages, right?)...
To start with we recommend a bit of a nuke to soften it all up, but not so much that you make it hard 'n' crusty, Then into a frying pan it goes with a bit of oil, lid on to crisp the base while encouraging a moist and melty top. Trust us, each pizza has a perfect match.
Meat Lovers and Through the Tasting Glass 'Cheshire Cat' or Kilkanoon's 'Meymans' Shiraz
Cup-a-Soup and... ?
Apologies for the knowledge gap here... We've not actually undertaken a serious study of the coming together of Cup-a-Soup and wine, but we were prepared to give you our best guess. Not that we haven't all indulged in the odd cup-o on a busy day. But it's our guess that you have not thought about this delicacy with wine... so this could be a great leap forward, a culinary conquest if you will. Best guess though, is that you should kill it with fire, and allow the two to practice a little social distancing.
---
Pasta and Tomato Sauce, and Ca de Lion L'Altera Barbera or Conte Di Campiano Primitivo
Avec or sans chopped up snagger left overs from Tuesday, or if you have to, pasta and tomato sauce straight from the squeezy bottle.
Two very different recommendations here, depending on whether you are using a quality tomato sauce, or the highly sugared 'dead horse'. Tomato sauce, the one that is designed for snags is hard to match, but our highly refined palates stand ready to guide you through. Both options call for a big Italian Red, or at least an Italian variety.
If your sauce is that of a quality jar, or better, a homemade one with passata, garlic, herbs, et al, there's plenty of options. We personally can't go past the Ca de Lion L'Altera Barbera, works beautifully with its precise bright fruits, good acid and fine tannin.
If you are "Pro Harting" the pasta with a sauce better suited to slathering on snags, you're in need of something much richer to counterbalance the sugar. We recommend Conte Di Campiano's Primitivo. The Conte has enough fruit sweetness that is won't sour the taste when you mung on the pasta but is relatively low in acid, which will yin yang/Fung Shui with the high acidity in the sauce. Serious.
---
..