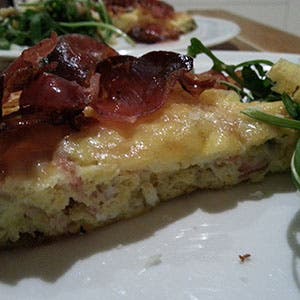 While the Tomich Blanc de Blanc is the perfect partner to seafood and Asian cuisines, it has enough depth and complexity to pair with richer foods as well and is a great starting point to a celebratory brunch. The day after a big pizza-making dinner with friends is the perfect time for a frittata – chances are by late morning, you'll be looking for some kind of salty comfort food that doesn't take a lot of energy to prepare. It's also likely that you'll have more than a few leftovers in the fridge which have been conveniently pre-chopped, shredded and/or grated as part of your pizza prep. That's why the other name for this dish is the 'fridge-tata'. Weekend brunch is also a great time to crack some bubbles. In between mouthfuls of the bitey sharpness of gorgonzola and parmigiana in the frittata, the fresh and light fruitiness of the Blanc de Blanc bubbly with its hints of melon and crisp apple, turn this meal into a real taste celebration - even better when teamed with a tangy rocket, pear and parmesan salad. Variations to the ingredients could include leg ham, smoked bacon or roast chicken or try a vego version with roast pumpkin and garlic, baby spinach, cherry tomatoes or potato, onion and stilton…the options are as limitless as the half-eaten contents of your fridge.
Frittata
Ingredients
Splash of extra virgin olive oil 9 eggs ¾ cup thickened cream ¼ cup basil leaves, chopped 100g mild pancetta, chopped or torn into pieces, plus extra 100g baked/grilled for serving 100g gorgonzola Bocconcini (2 or 3 cherry sized) 50g parmigiano reggiano, finely grated
Salad
Ingredients
Rocket leaves – about 100g washed and patted dry 1 ripe buerre bosc pear, cored and thinly sliced Handful walnuts, chopped (toasted if desired) 1 tablespoon red wine vinegar 1 teaspoon dijon mustard 2 tablespoons olive oil 1 teaspoon honey 25g parmesan, shaved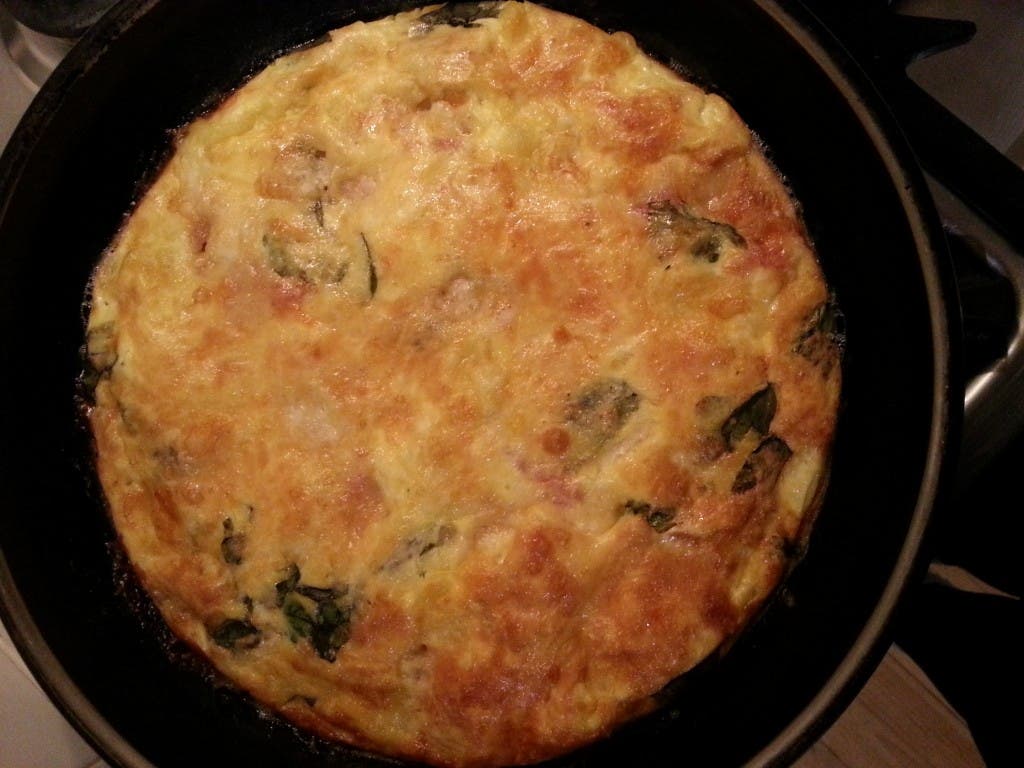 Frittata
Method
Preheat oven to 180 degrees Celsius. In a bowl or jug, whisk together eggs and cream. Add oil to a large, oven proof frying pan over low heat (ensure handle is heat-proof as you will be putting the pan in the oven later). Pour a small amount of the egg/cream mixture into the pan to create a thin layer and remove pan from heat. Place the pancetta and basil across the egg mixture in the pan and dot small pieces of gorgonzola and bocconcini over the top. Carefully pour the remaining egg/cream mixture into the pan to cover the ingredients. Sprinkle with grated parmigiano. Place the frypan in the oven (you can wrap handle in alfoil as an added precaution) and bake for 25-30 minutes or until puffed up, golden brown and set. In the last 10 minutes, place pancetta onto baking tray lined with baking paper and bake in oven until crisp. Carefully remove frittata pan, slice and serve topped with crispy pancetta and the rocket & pear salad.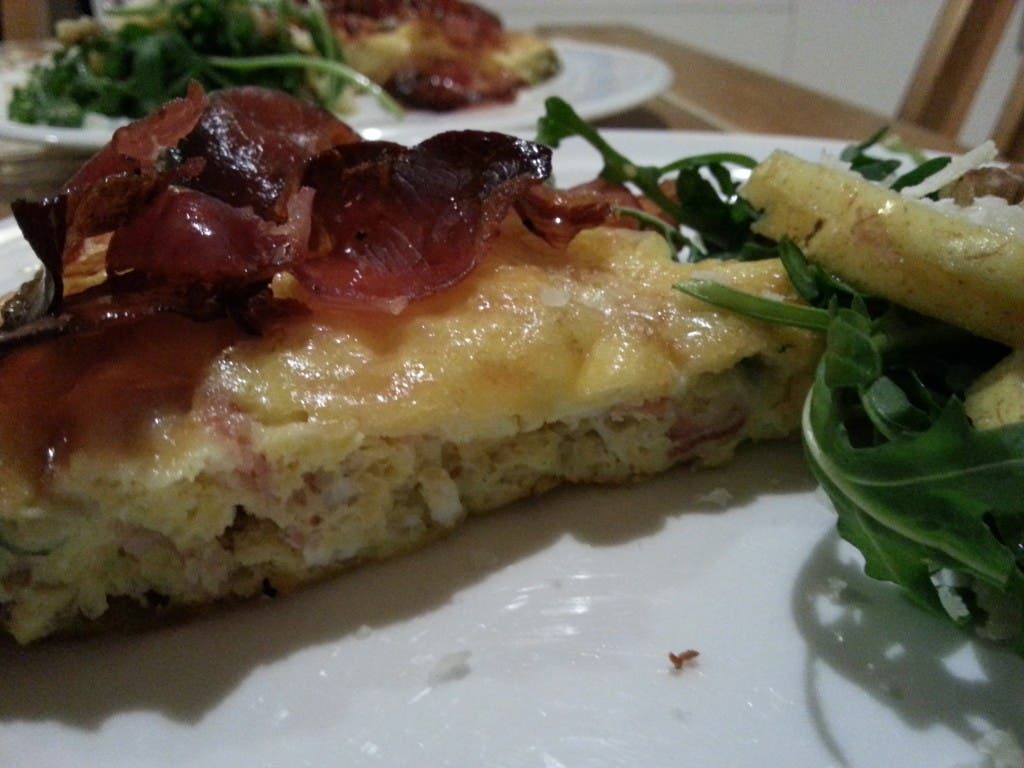 Salad
Method
Whisk dressing ingredients in a bowl or place in a container with a lid and shake well to mix. Combine salad ingredients (except parmesan) in bowl and drizzle with dressing then carefully toss salad. Top with shaved parmesan and serve alongside frittata.
..