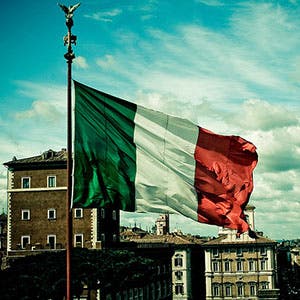 Our Italian Imports have landed!
We tasted hundreds of wines earlier this year at the massive German Trade wine fair, Prowein, at the Italian wine expo Vinitaly and throughout various Italian wine regions. Overseas we tasted and reviewed the wines at least twice and then we did it all again as a panel back in Australia, tasting and reviewing the best wines from those shortlisted for consideration. We settled on a very select few - just the 17 superb wines which are now in stock. Drum roll please…

Here's a little info on each of the wineries from which we have chosen to import these beautiful wines:
Ca' de Lion is a boutique producer which has been based in the Piedmont since 1655, making wine for many, many years. We've chosen to start with two of their brilliant Barberas from Asti. These are exceptional examples of Barbera and we are delighted to introduce them to you.
Ca'Botta ,based in the Valpolicella DOC region about half an hour from Verona, makes wine exclusively from dried grapes. In normal winemaking a kilo of grapes makes roughly one bottle of wine. Even their 'entry level' wines like the Rubicondo are produced from dried grapes – 1.2kg's per bottle. At the other end of the spectrum each bottle of the supremely concentrated Il Priore contains 4.3 kgs of fruit. Ca'Botta has a small holding of high altitude vineyards overlooking the Squaranto Valley (350-550m above sea level). This high altitude enables them to make Valpolicella, Ripasso, Amarone and other wines of a higher than normal body, acidity and intensity of flavour. They are blessed with 3 distinct soil types; volcanic, white limestone and red Veronese marble soil. Their plantings are primarily of the typical regional varieties; Corvina, Rondinella, Molinara and Corvinone and they also use Turchetta, Croatina, Teroldego, Oseletta and Cabernet Sauvignon. In addition to making regional specialties like Amarone, Ca'Botta produce wines using grapes not allowed by the Valpolicella DOC… e..g. the Il Priore, contains 25% Teroldego. It is made in a super concentrated Amarone style after drying the grapes for 130 days. As Teroldego is not an official grape of the region, they cannot call the Il Priore "Amarone", however the concept of using the Teroldego's naturally high acidity and tannin counter- balance the density and concentration achieved by the extended drying process. This results in a super concentrated and rich wine with extraordinary balance. Ca'Botta have also received a patent for a maceration/fermentation tank they developed which facilitates maximum extraction of tannins, richness, colour and flavour from their grapes.
Conte di Campiano is located in a small town on a hilltop in the northeast of Verona with origins in late 1950s. The winery sources fruit from a large number of different regions and produces a stack of different wines, too many to mention here. We decided to start by importing just one, from one of the rarest varieties – Susumaniello. We've now added a Primitivo di Manduria and a Nero di Troia from them.
Schola Sarmenti can be found in the Salento region of Italy and specialise in Primitivo and Negro Amaro. They work with an unusually high percentage of old vines and have been instrumental in preserving the ancient Apulian vine training system called Albarello. Also known as "little trees", it's a form of cultivation which requires intensive manual care of each vine and ongoing pruning… it is expensive to do but allows good aeration and light exposure for the fruit, and produces wines with an unusual intensity of flavour. Schola do not use chemical fertilisers or weed killers and while not organically certified, they grow their fruit using organic methods. These are delicious, handcrafted wines made with love.
And finally,
Vini Giribaldi are a third generation producer who have been certified organic since 2004. They are based in the Piedmont region of Italy and produce only about 15000 cases of wine a year from 30 hectares. They were among the first producers to make organic Barolo. We are stocking two superb Barberas and one beguiling Barbaresco.
..