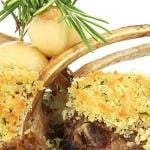 Lovely, sweet lamb with a lifting crumb. So good, treat it to a nice red and they'll be begging for more and more.
Ingredients
(Serves 4) 4 four-bone lamb racks 1kg Jerusalem artichoke 1 cup cream 250g sweet potato, peeled and diced 100g confit garlic 10 tsp garlic herb crumbs 2 sprigs rosemary ½ bunch lemon thyme 2 bunches broccolini
Method
Artichoke Puree:
Boil the artichoke until it is cooked through. Roast the diced sweet potato. Using a food processor, blend the artichoke and cream together, before seasoning and adding the sweet potato. Blend until a smooth puree is formed.
Confit Garlic:
Slowly fry the garlic off in a little olive oil until it becomes soft. Keep the oil for the garlic herb crumbs.
Garlic Herb Crumbs:
Mix the lemon thyme, breadcrumbs and 1 tsp of the garlic oil from the garlic
Read more